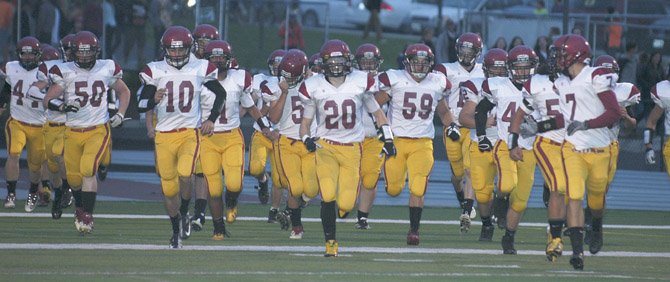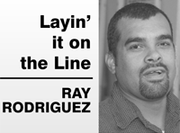 All it takes is a little success and belief and the confidence and drive of a football team can reach the highest of peaks.
This past Friday on a rainy night in Bend, The Dalles Wahtonka football team showed that they can be one of the better teams in the state.
It is still only September, but the belief factor is at an all-time high as TDW stacks wins to the record books.
Perhaps a telltale sign of such maturity came in this last 42-28 win, when the Eagle Indians came back from a 21-14 halftime deficit, using big plays and a stout defense to turn the tide.
"I think we grew up tonight. The kids kept believing. They came out in the second half and played a great game," said TDW head coach Steve Sugg. "We had some adversity in the first half and I think the last couple of years, we probably would have folded under those circumstances. I am seeing a team mature every day in practice and tonight our leaders helped bring this team closer."
So it is that the likes of seniors Chaise Shroll, Zach Cantrell, Austin Wilson, Blake Diede, Austin Dehart, Zach Nerdin, Nolan McCall, Mike Pifer, CV Regalado, Connor Shortt and Kauone Sefo are much, much more than players who are participating in their last year of TDW competition.
These seniors are part of a group that has been constantly over-looked, but one that over-achieved and played with heart, desire and passion.
However, there is much more to this team than offense, touchdowns, and wins.
They are the definition of team, men on a mission, willing to do whatever it takes to represent T-Dub football, postseason play, and a team reputation for greatness.
Yet, in examining the big picture, TDW has come together as a family, with each player growing and learning from each game.
To a man, they say it is not all about winning. The lessons learned will carry them to adulthood … as fathers, as role models and as strongholds in their households and the community.
The father figures on the sidelines can take pride in knowing they instilled a responsibility in not only teaching the X's and O's, but also an education of life off the field.
Coaches like Rich Belanger, Rick Wilson, Drew Savaiinaea, Corey Hollingsworth, Tony Shroll, Lynn Helyer, Jim Taylor, Ron Diede, Bob Johnson and head coach Steve Sugg have instilled life's lessons to help them grow.
And grow they have in a short time.
From one win apiece in 2011 and 2012, this team has beaten Benson, nearly defeated Madison and exacted revenge on Crook County and Summit so far, and are close to halfway towards matching a win total from the three previous years combined.
"We proved that we weren't the same football team we were a few years ago after coach Sugg came and took over the program," Pifer said. "I am glad I got to play for him, and that would be my best memory."
Through the countless hours working on drills, tough practices and working diligently through an implemented weight program, Regalado said those elements are more telling and productive than wins and losses – only his brothers in the locker room could see the benefits of the hours logged in preparation.
"The weight room was probably the most critical part of our success this year and that's what is going to keep this team going towards the right direction," Regalado said.
The names on the roster were not littered with Division I talent, but with a focus and belief that with assignment football, dedication and teamwork, success would be attained.
This year's TDW team was not the fastest or most athletic in history, but one that has come together in the face of adversity.
Shortt and Nerdin take pride in the fact that they sacrificed so much for the good of the team.
All season long, the focus has been there, not just because this team goes about its business in such a manner, just because there is so much more on the line for the group of seniors – there is an opportunity for redemption, a chance to erase several years of jeers, jokes and snickers from their peers.
A small school, in 5A regards, the Tribe have been able to piece together depth through hard knocks and tough practices, long film studies and hard work.
Not all those hours in the weight room went unnoticed; not all the repetitions were for personal gain – more of a responsibility to teammates to work as hard as or harder than they have through the years to try to build a reputable and winning program.
"After last year, we saw that we could become something great, and so we set our goals high," Nerdin said in an earlier interview. "Early on, we set out to go beyond any year we have ever had. We have met some of our goals. We have taken those steps every week and all of that work has given us an opportunity to accomplish so much more."
Talent, skills and size have never denied this group of hustlers, fighters and gridiron warriors – heart and pride describe what they are dealing with on a daily basis.
Shortt can recall sleepless nights lying in bed, wondering if this was the right path – did he really need to take all of the losing and ribbing. Yes.
He and his team have sought to fight for the respect they rightly deserve, while looking straight at the eye of the storm.
Now his sleepless nights are in anticipation of one of the biggest moments of his young life – Friday nights.
He can be a part of something special, something that is bigger than he is.
History.
"We are going to come out and practice harder, stay focused and do all we can to win games," Shortt said. "We are going to come out and give 110 percent, because we are doing this for each other. We have stuck together the entire time. I love seeing us doing so well with teammates I have played with for my entire life."
When you see a group of 36 kids rustling on the field on Friday nights, there has to be a sense of pride in knowing what these youngsters have gone through to get to this level.
"It will definitely be a satisfying moment for me if we can end this season on top," Pifer said. "This is our senior year, we will never get another chance. We have to come out like everything is on the line."
They believe, they care and they will do just about anything to ensure that the loveable loser stigma is switched into a moniker that can never be taken away – champions.
How sweet the feeling, how sweet the sound.
These boys now know what it took to get to the mountaintop and now they have a chance to climb to the highest peak and bellow out a shriek of cataclysmic proportions.
The Dirty is back.