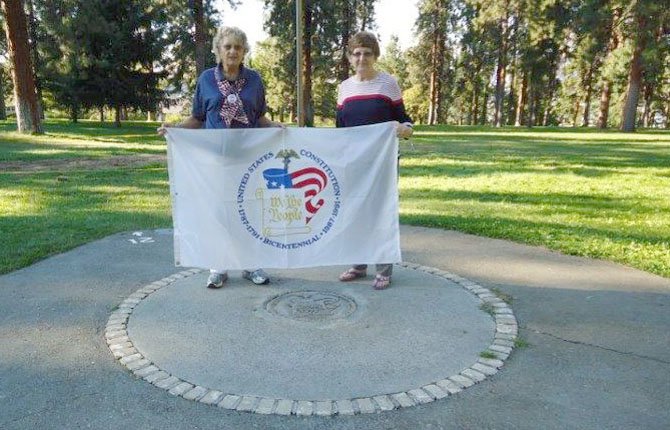 Sonrise Academy celebrated Constitution Day by receiving pocket-size Constitutions from Darlien France, an original member of the Wasco County Constitution Bicentennial Commission that buried a Constitution-related time capsule in honor of the anniversary, 25 years ago.
While the capsule won't be opened for another 25 years, France and Bobbie Miller, who chaired the commission, visited the site at Sorosis Park where the capsule is buried.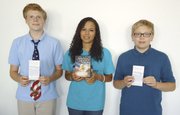 "It is so important that we remember the past and appreciate what others have done for us that has enabled us to have a great life in this, our United States of America," Miller wrote in 1988 in a guest column published in The Chronicle.
Sonrise Academy celebrates Constitution Day every year with a program presented by France. This year they watched a video, "Four Centuries of Education," by Dave Barton, a minister and political activist, showing what students studied in the past.
Schools played a key role in the 1988 time capsule project, according to a report in The Dalles Weekly Reminder. All Wasco County schools were invited to participate, along with civic organizations, churches and some historical families. Each participating organization filled a one-gallon paint can full of items. Northwest aluminum constructed the actual capsule and its cap, which can be seen above ground.
A group of students from all the county's school districts were selected as the "guardians" of the time caspsule until its opening in 2038. Many of the second-graders' parents wrote letters to them that were placed in the time capsule, hoping to impress upon them the importance of their duties as guardians. The capsule includes a variety of items from the area ranging from business cards to video tapes and historical items.
"Other items to be buried include photos of students, a computer program, school yearbooks, letters to relatives, a Pee-Chee, an athletic schedule, a baseball, a drama program and several brochures," the Reminder wrote.
Committee members at the time said the capsule serves as more than a historical record of the time. It also serves as a memorial to the U.S. Constitution.
The Coalition for an Educated Electorate will host a Constitution Seminar with the WallBuilders and Tim Barton Saturday, Sept. 28, from 1 to 3 p.m. Introduction will be by historian John Brennan of Hood River. Seminar speaker will be Oregon Rep. Dennis Richardson from U-Choose.
The event will be at the Columbia Gorge Discovery Center, 5000 Discovery Drive, The Dalles. Cost is $15 per person in advance. Seating is limited. For reservations call 541-467-2371 in Wasco County, 541-980-0605 in Sherman County, and 541-308-5375 in Hood River County.