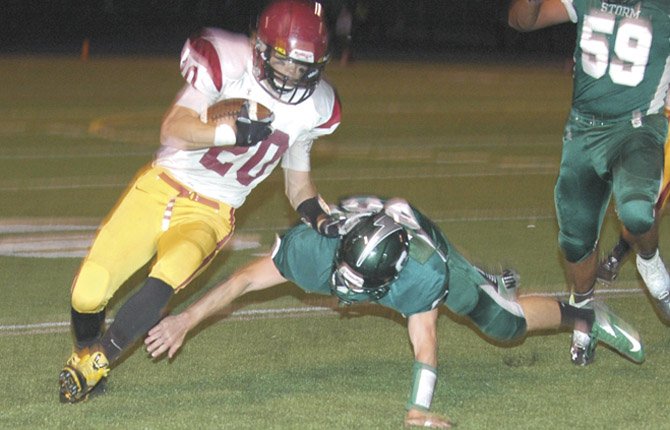 With heavy rain falling down on his head after Friday's 42-28 football win, senior lineman Mike Pifer could not take a wide grin off his face.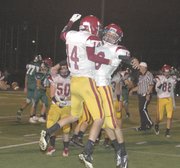 After two losses against Summit in consecutive years, his Eagle Indian team rallied from a 21-14 halftime deficit with a 28-7 spurt in the final 24 minutes of play to upend the Storm in a non-league gridiron matchup in Bend.
"This is the best feeling that I have ever had. We came in here and they thought that they were just going to walk all over us and we proved them wrong," Pifer said. "It comes down to heart and a lot of guts. We just wanted it more. After we were up by one score, they kind of quit and we just hit harder. We kept scoring and ran them into the ground."
After a first half, where mistakes and missed opportunities ruled, the Eagle Indians made their own breaks while Summit stubbed their toe with several lapses to put TDW back into contention.
In the second half, TDW scored on three of its final five drives, including three in a row at one point.
The first score came after a bad snap of a punt, as the Tribe made the recovery on Summit's 31 with 54.6 seconds left in the third frame and the Storm up 21-14.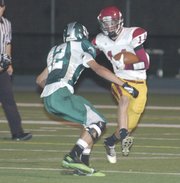 On a fourth down and eight from the Summit 29, Tribe quarterback Chaise Shroll found an open Zach Nerdin for the score to make it 21-20.
Shroll then found Nerdin again for the conversion to give TDW its first lead of the game, at 22-21, with 11:52 left on the watch.
Summit went three and out on its next possession, and on fourth down, Storm punter Johnny Zuniga had his attempt blocked by Austin Dehart. Devin Wilson scooped up the ball and scampered in from 14 yards out to swell the Tribe lead up to 28-21 at the 10:08 mark.
Then things turned interesting.
The Storm and their offensive coordinator Drew Bledsoe did not waste time on their next time with the ball, as they embarked on a four-play, 63-yard drive.
On first and 10 from the TDW 46, Summit quarterback Bransen Reynolds lofted a high pass to the right sideline intended for Tyler Mullen.
With Tribe corner Payton Eaton draped all over him, Mullen made the fingertip grab and scooted his way to paydirt to move this contest into a 28-all tie.
On the next kickoff, Dehart, the Eagle Indian returner, bolted 46 yards to give his squad possession at the Summit 44 with 8:27 left.
They ran four run plays, and on second down and 15, Shroll found Nerdin for 22 yards to put the pigskin at the Storm 25.
Two plays later, Shroll hit Dehart with a fastball wedged between two defenders and his trusty wideout made the grab for the touchdown.
All TDW needed was a few stops to get the ball back so they run out the clock.
Summit ran one play and on the second play, Reynolds was rushed from the pocket, and he was forced into an off balanced throw. Tribe safety Austin Wilson picked the ball off and ran it back 35 yards to give TDW the ball.
Shroll capped the seven-play drive by hustling home for the final tally to make it 42-28 with two minutes left.
In the second half, Summit managed 137 yards and went 2 for 6 on third down conversions.
They punted once, lost the ball on downs once and had four turnovers.
The loss of downs play turned the momentum around early in the second half, as Summit had the ball second and goal from the one yard line still with its 21-14 lead.
They ran twice and then missed on a fourth-down, play-action pass to give the ball back to TDW.
"Coming off last week where we did not play particularly well on defense, our defense really stepped up," said TDW coach Steve Sugg. "That goalline stand was awesome. They had first and goal on the one and we stopped them. You could see the level of intensity and belief took off after that."
For Summit coach Joe Padilla, physical play showed in this matchup.
"I think The Dalles played a more physical game than we did tonight," said Padilla. "My hat is off to them, they deserved to win tonight."
Summit's all-around athlete, Ty Mullen had five catches for 121 yards and two scores, nine rushes for 81 yards and a touchdown and went 6 for 12 for 58 yards and a 13-yard strike to account for the offense.
Shroll finished 17 for 26 with 209 yards and two scores, and he added 12 rushes for 40 yards and three trips to the end zone.
Nerdin had four grabs for 75 yards, Dehart had three catches and 42 yards, and Devin Wilson had one catch go for 36 yards on the team's final drive, on third and 11.
On the ground, TDW had 36 rushes for 116 yards with Nolan McCall leading with nine totes for 43.
"I think that is the difference between last year and this year, is we have grown up and we have confidence in ourselves," said CV Regalado. "When we face adversity, we are able to overcome because we've come together as a group. We have the skills, we have the experience, we just need to put all of the pieces together."
TDW (3-1 overall) hosts Hermiston at 7 p.m. Friday for league play.
Radio station 1440 AM KODL will broadcast.