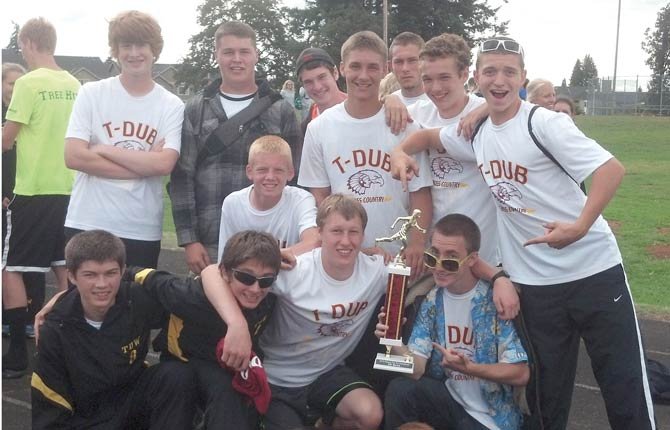 If there was any hope this cross country team was ready for the big stage, they proved it to coach Bob Thouvenel Saturday.
Seven of The Dalles Wahtonka harriers clocked in with top-10 finishes, and the junior varsity boys claimed second-place honors against a solid field at the Oregon City Cross Country Invitational.
"Overall, an outstanding meet for our kids," said Thouvenel.
"They continue to improve and surprise us. We felt that they would make improvements during the season, but not this fast or this early in the season."
The JV boys had 56 points for their trophy-earning performance, finishing close behind David Douglas (39).
Mitchell Waters had one of his better times of his career, as he notched second place with a marker of 18 minutes and 15.55 seconds, a little more than seven seconds off the pace set by David Douglas' Josh Dyk (18:08.30).
Andy Felderman scored seventh with an 18:29.55; John Miller added an 18:35.78 for eighth in the standings.
Jace Bailey (19:18.40), Ethan Shubert (19:37.46), Ming Ou 20:25.13), Murphy Goldsberry (20:42.44), Robert Westhafer (20:47.26) and Ian Corey (20:48.82) all had times to put them in the top-50.
On the girl's JV courses, Tai Rogers ended up fourth in a field of 48 where she crossed the tape in 24:06.17. Rebekah Kohltfarber had a 27:48.58 and Allie Wood chugged in at 28:41.90.
In all, there were 52 varsity girls signed up, as David Douglas' Kennedy Allen dialed up first place in 18:24.84.
TDW's Maddie Wood continued her rise with a final time of 20:12.87 for eighth, and teammate Emily Morin was good enough for ninth where her reading stood up at 20:13.00.
Molly Nelson (21:44.00), Katie Burns (22:00.18), Luisa Meyer (23:56.59), Kellina Coy (24:15.09) and Hannah Weeks (26:14.47) rounded out the Eagle Indian participants.
"Not only good individual efforts, but good team efforts," Thouvenel added. "Again, we had a lot of personal and seasonal bests."
Elijah Kohltfarber was a man possessed in Oregon City, shaving nearly a minute off his previous best in 16:49.00 for ninth place.
Since Aug. 29, the senior has cut down more than two minutes on his times.
Another senior, mark Johnson hustled home in 17:41.78 for 23rd and Jony Nelson kicked in a 17:51.81 for 24th.
Luke McLean (18:01.31) and Mark Dunagan (18:11.59) each chalked up top-30 finishes, and teammates Clayton Ringer (18:17.78) and Chase Snodgrass (18:55.75) ended up in the top-50.
TDW stays close to home this week for the Bridgette Nelson Memorial Invitational at 3:30 p.m. Friday at Sorosis Park.