Alexandre Dumas, the father, not his son, said, "All human wisdom is summed up in two words -- wait and hope."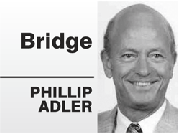 At the bridge table, one wishes that all wisdom isn't summed up in two words -- play and hope. Yes, you will often be hoping for the best, but ideally you find a 100 percent line of play or defense.
In yesterday's deal, declarer had two chances to make his contract. Today's is similar. South is in six hearts. West leads the club queen. What are declarer's two chances? How should he play to combine them?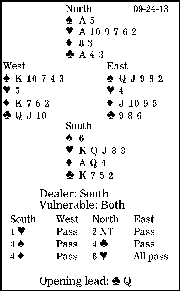 North's two-no-trump response was the Jacoby Forcing Raise, guaranteeing at least four-card heart support and game-going values. South's three-spade rebid indicated a singleton (or void) in that suit. Then, after two control-bids (cue-bids), North made a very aggressive jump to slam.
If you bid the spots off the cards, you had better play them off, too -- and get lucky.
South can see two possible losers: one diamond and one club. He has only 11 top tricks: one spade, six hearts, one diamond, two clubs and a spade ruff in South, the shorter trump hand. Declarer's first thought is probably that the diamond finesse needs to work. But he might also find clubs 3-3. And that should be tried first.
South takes the first trick, draws trumps, and plays two more rounds of clubs. Here, they divide evenly and declarer can claim, stating that he will discard one of dummy's diamonds on his last club. But if the clubs were not 3-3, the diamond finesse would still be available.