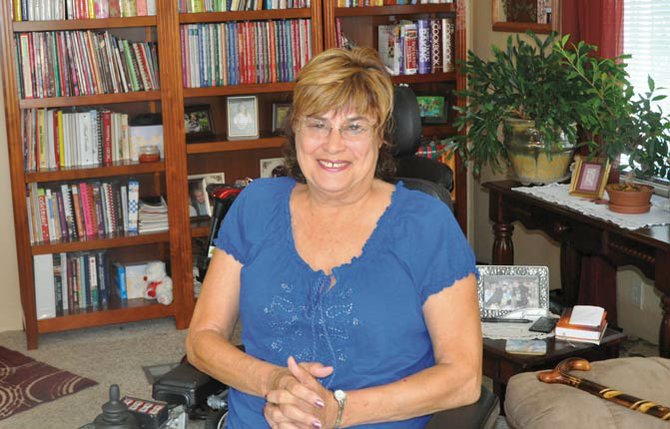 A couple years ago, MariAnne Sansour of The Dalles started to notice her left leg "wasn't working right."
Three doctors, five MRIs and one spinal tap later, she got what is considered the worst diagnosis in medicine: She had ALS, (Amyotrophic Lateral Sclerosis) or Lou Gehrig's Disease.
"It is a disease that attacks the motor neurons in the brain and spinal chord. When the motor neurons die, the muscles waste away. Gradually, a person is robbed of the ability to walk, speak, eat and, eventually, breathe," she wrote in a leaflet advertising an upcoming Sept. 29 fundraising Walk to Defeat ALS, at the World Trade Center in Portland.
To donate to the walk in Sansour's name, visit www.WalktoDefeatALS.org.
The only function that is spared, cruelly, is cognitive function. "Your mind is clear as I am now," she said. "Your mind knows what's going on, is aware of the paralysis."
Most die within two to five years of diagnosis. She got her diagnosis two years ago in November.
The disease's progression is so daunting that sufferers are encouraged not to learn details about anything that doesn't pertain to their current circumstances.
Sansour, a trim, energetic, devout 67-year-old who looks 10 years younger, still keeps positive and busy, even though she is now confined to a motorized scooter.
"I am not going to let this disease defeat me. I know it will in the end. I still do a lot of things," she said.
"I plant flowers in the pots. I do all the watering, I do the laundry. I can still vacuum this room," she said as she sat in her immaculate living room. "I still do baking."
When asked if she tries to do too much, she admitted sheepishly, "Well, yes."
Talking about her prognosis is understandably difficult for her.
She went to the Portland Walk to Defeat ALS last year, where she raised $3,000, and said it was an "amazing" experience. But she also saw people there who "couldn't speak, they couldn't move their hands. It had progressed, and that kind of got to me."
She paused, then continued, "I don't like it, of course. As it's progressing, it's getting harder for me and my family. I don't know if I've come to terms with it 100 percent. Attitude has a lot to do with it and my attitude 90 percent of the time is positive and people are amazed because I'm usually happy and goofy. You can't drown yourself in misery and self pity. Where does that get you? Nowhere. With the help of God, I'll get through it. I have a strong faith."
She also draws strength from her church family at Faith Lutheran Church. In an effort led by Laura Comini and Sharon Norris, the congregation raised the funds to help Sansour buy a van with a hydraulic lift.
"That church is amazing and the people have been there for me. Janice Shettner, she's done all my typing up of letters."
Sansour also credited her husband, Albert, with being an emotional rock for her. "I have the best husband, I do. He's very, very positive very upbeat for me."
He dropped his usual positivity to talk frankly about the disease. "People have no idea what the disease is, what it does to the person and to families. It's exactly a death sentence. When you have that disease you know that is the utmost of punishment. It cannot get worse."
As for MariAnne, he said, "We're hoping for a long, long time it does not go to the upper level, when it gets to the lungs and stomach and the breathing." Normally, Albert and MariAnne do not talk about ALS "at all," he said. "We know what's going to happen but we don't want to dwell on it, because you are walking dead, they are going to execute you one day."
MariAnne said, "I haven't even talked about a funeral, not yet. There are things we have to talk about yet. But my husband doesn't want to."
He said, "It's not that I don't want to — you don't."
"You're right," she said. "I don't."
She said she used to be a shopaholic, buying clothes all the time. "And now, why?" But she does take solace and strength from thinking about the things she can still do.
"I have to concentrate on what I can still do and not what I can't do. And there's days where that kind of concentration does not work. Considering the kind of person I was and that I now have to be idle, I think I'm doing pretty good."
Sansour used to be a workaholic – she once held down three jobs simultaneously — but fatigue, a hallmark of the disease, has slowed her down.
She loses her oomph by about 2 or 3 p.m. each day. "But I fight the fatigue, big-time."
The other day, she baked bread – a job that would've taken her maybe 60-90 minutes before but took her four and a half hours — watered the lawn, and then cleaned up her kitchen mess, including scrubbing the kitchen floor with a machine she can operate from her scooter.
Before her diagnosis, "I was very, very, active. Very. I was a very independent person. If I wanted it done, I did it," she said. Now she can't dress herself or get out of bed. She's getting bed rails soon to help her turn over at night and get out of bed.
The loss of independence, she said, is the hardest thing to take. "I get so frustrated and I don't have the patience. That is one of the things I have to work on. We've painted and repainted door jambs."
When she was first told the diagnosis, she was vaguely familiar with the disease, since she's a Yankees fan and Lou Gehrig, a famous Yankee player, died of it.
"I knew it was a fatal disease," she said.
"When I get more advanced we go to what is called ALS clinic and that is very depressing," she said, as a grim look briefly flitted across her face. "They have different instruments to help you with your breathing."
There's a "loaner closet" at the ALS Clinic she goes to in Portland, where people can borrow equipment from people who have already died of the disease.
"It really helps because the things that you need when you are afflicted with this disease are really expensive."
A motorized wheelchair costs $32,000. A scooter is $1,500 to $5,000. There are also wheelchair ramps and bed rails to buy at this stage.
She doesn't have pain yet, but eventually her toes may curl in painfully, she said.
Her semi-retired husband works a few hours a week, but "It's getting a little bit hard to leave me because of the falls," she said.
Sansour's vitality remains undimmed, and she has plans afoot.
In October, she starts volunteer work with the SMART program, in which she reads to two youngsters at school. "I'm so jazzed about that. I can't wait. It gets me out. It won't tire me out."
She's also going to apply for a job at the new Goodwill store in The Dalles, because she's heard they hire the disabled.
She just wants to do two shifts a week because she gets so tired, but it's still a testament to her fighting spirit. "I don't know what [my doctor] is going to say when I tell her I want to go to work."