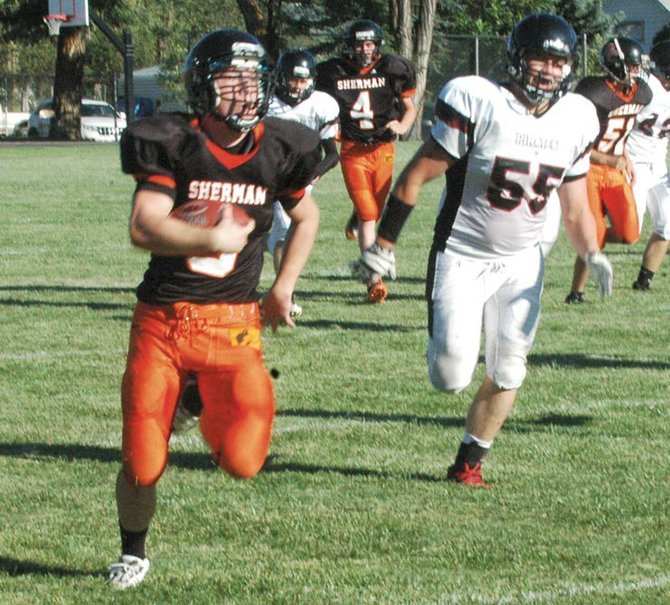 Two high-caliber running offenses were on display Friday night in a slugfest, as the Echo Cougars and Sherman Huskies went to battle in their Big Sky Conference football openers.
In the end, however, Sherman posted 600 yards from scrimmage and had a few extra bullets in the chamber for a 62-52 shootout road win over Echo.
"It was great for us to play in a back-and-forth type game," said Sherman coach Todd Swan. "These are the games that are fun to coach – the games that test the character and fight within your players. We will take what we have learned, enjoy the victory for a few days, and then get back to work."
After holding a double-digit lead in the first three quarters, the Cougars got a two-yard run by Danny Tappo to move his team to within a 48-44 deficit early in the fourth quarter.
Needing to put some more points on the board to create some distance, Swan called on his bruising running back, Blake Evans.
Evans hit paydirt on runs on 3 and 43 to add some leeway against an Echo team that did not go away easily.
With time running out, Echo's Devin Sather scored from 18 yards out to make the score 62-52, but that was as close as they would get.
"Our defense played solid, but they were on the field a lot due to the quick scoring of our offense and the longer possessions of Echo," Swan said.
Brett Evans led all rushers with 243 yards and three touchdowns, and Blake Evans chipped in with 150 yards and three more tallies.
Starting quarterback Nick Coleman went over the century mark as well with 116 yards and two scores, and Maverick Winslow had a trip to the end zone to go with his 58 yards.
Swan felt that this offense was able to execute well because of the bruisers in the trenches.
"The offensive line was huge in tonight's victory," Swan stated. "They often go unnoticed, but without them getting the job done, these huge running performances are not possible."
At 5 p.m. Saturday, in a re-scheduled game, the Huskies (3-1 overall, 1-0 league) host another home contest against No. 17 Triad (2-2).