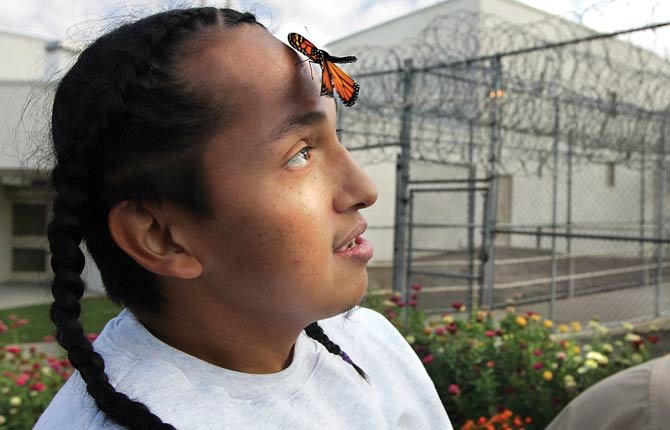 WALLA WALLA, Wash. (AP) — An orange and black monarch butterfly rested on Alex Littlebear's fingertips for a few seconds before taking flight over a barbed wire fence at the Washington State Penitentiary.
The convicted killer smiled as dozens of other butterflies fluttered toward the sky and out of sight. Littlebear and the handful of other inmates who released the insects Monday at the Walla Walla prison call themselves the butterfly wranglers.
The group of about 40 inmates in the mental health and protective custody units raise the butterflies and release them with the hopes of helping scientists track their migration patterns.
"It's a stress relief for me," said Littlebear, 30. "This has got me to appreciate butterflies now that I've seen them grow."
Littlebear is serving a 13-year sentence after pleading guilty in 2004 to manslaughter after he helped beat a homeless activist to death in Seattle.
Inmates are releasing hundreds of monarch butterflies this month as part of the prison's butterfly rearing program. The program started last year to help Washington State University scientists learn more about monarchs in the Pacific Northwest.
The monarch, which lives between six and 10 months, essentially is a sub-tropical butterfly that leaves the Northwest in the winter for warmer places, said David James, associate professor of entomology for WSU in Prosser. It is one of the few butterflies that migrates and researchers are trying to pin down where it goes.
"We know very little about them in the Northwest," James said.
The butterflies are tagged — a small sticker is placed on their wing with a serial number and email address for James — before they are released. People who recapture them are encouraged to contact him so he can track their migration.
James said he believes a majority of the Northwest monarchs are migrating to California and Mexico. Of the two monarchs recaptured after last year's release, one was found in Utah and the other was north of San Francisco.
"The program really helps give us information on where they are going and the routes they have taken," James said.
The population of monarchs has decreased in recent decades as its main source of food has been depleted, James said. Monarchs feed on milkweed plants and developments in agriculture have made the plant less common, he said.
"It's a serious problem," he said. "Part of the project is to see where they migrate so we can better manage resources for them."
The population of monarchs in the Northwest is low compared to the eastern part of the U.S., James said. The entomologist believes the prison's program — which helped release about 2,600 monarchs last year — has had a hand in more than doubling the population.
James hopes the program will grow in the coming years as he pursues funding from the National Science Foundation, he said. He expects the program to last for another five or six years.
This year, James was able to capture 10 female monarchs, which laid about 3,000 eggs on milkweed plants in his lab, he said. James gave the milkweed plants to the inmates, who raised the caterpillars into butterflies.
Inmates feed the caterpillars and clean their cages, among other things. They spend about an hour and a half each day with the insects.
Cathy Bly, a correctional mental health counselor who supervises inmates in the program, believes raising the butterflies teaches inmates to work together and makes them open up in counseling.
"It teaches them pro-social behavior," she said. "Most of these guys are going to get out. If you just warehouse them in a cell, they won't learn anything."
The inmates become like a small community while raising the monarchs and Bly has seen the program help with post-traumatic stress and depression, she said.
Joshua Vance, 26, battles depression and said he uses the butterflies as a release from the pain he feels when he is inside of his cell.
Vance stabbed his father to death in Lewis County in 2012. He pleaded guilty to first-degree murder months after the crime and received a 30-year sentence.
Vance's family members say he was off his medication when he cut his father's throat and stabbed him 11 times, according to news reports.
Vance was passionate as he spoke Monday about his role in raising the butterflies. His eyes lit up talking about the life cycle of the monarchs and watching them hang from their cages as they turn into butterflies.
The time Vance gets to spend out of his cell with the butterflies makes him realize that there is still beauty left in the sometimes dreary world of prison, he said.
"Knowing that I have so long to do, this makes it easier," he said. "It lets me know that there is more to life."
The program also has had an effect on inmate Robert Slaton. The 43-year-old said he has more than seven years left to serve on an 18-year sentence for assault.
Raising the monarchs has broken down barriers and stereotypes inmates face while in prison, Slaton said. He said he believes the program allows inmates to leave the stress of prison behind and turn their focus to something positive.
"We all come together," he said. "There is no prison way of life when we are here. It's all about the butterflies."
---
Information from: Tri-City Herald, http://www.tri-cityherald.com
Copyright 2013 The Associated Press. All rights reserved. This material may not be published, broadcast, rewritten or redistributed