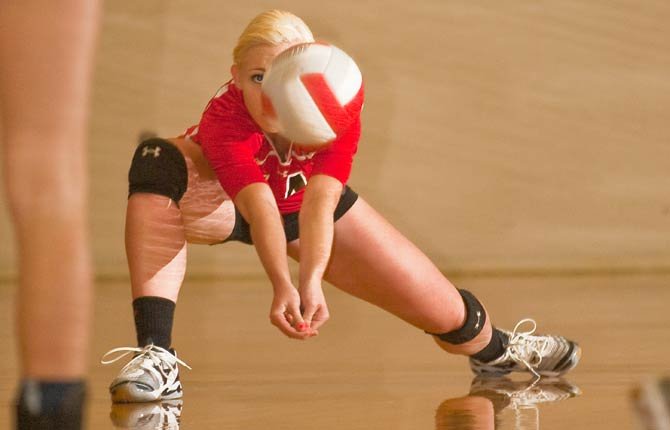 A big way to send a statement is winning.
The No. 3 Dufur Rangers sent that message loud and clear with wins over No. 8 St. Paul and No. 1 Condon-Wheeler Saturday in a 1A volleyball three-way dual in Dufur.
More impressive than the wins and the scores were the limited errors committed by Dufur in both matches.
On serves, the Rangers had 16 errors on 188 serves with 22 aces. When Kyla Johnson dished up the passes along with Alexa Macias, the Dufur hitters slammed down 83 kills, but just notched 21 errors on 250 attempts.
"What a great night of volleyball. We played two tough teams tonight," said Dufur head coach Kelly Darden. "The girls played with a lot heart and kept attacking despite some unforced errors on our part. I thought some girls served tough tonight, which helped get the momentum back on our side."
Dufur opened the night up against St. Paul in what turned out to be a five-game grudge match.
The Lady Rangers won the first two games by scores of 25-21 and 25-13, but St. Paul did not quietly, as it worked splits of 26-24 and 25-12 to send this duel to a fifth set.
In the finale, Dufur and St. Paul would not give an inch, but the home team had things go their way down the stretch with a 15-12 output to close out the Buckaroos.
Taylor Darden had 17 kills, 12 digs and three aces, and Teneille McDonald filled up the stat sheet with 11 kills, seven digs and two blocks.
Kathryn Johnson notched eight kills and 16 digs, and Kyla Johnson tallied 16 assists.
Macias, a senior, had an all-around match with five kills, 18 assists, four aces, nine digs and a block.
If the St. Paul matched pushed Dufur to the limit, No. 1 Condon-Wheeler quickly got the attention of the crowd.
Once again, Dufur had a quick start to matters, as it reeled off margins of 25-21 and 25-19 to go up by a 2-0 level.
The Lady Knights answered the bell in the third game with a 25-13 winner, but Dufur came back for an impressive closing shot with 25-17 score.
Darden had 11 kills, five aces and 10 digs, McDonald had 10 kills, seven digs and a pair of blocks.
Kathryn Johnson tallied 13 digs, six kills and a block, and Macias dished up 14 assists, three aces, three digs and five kills.
"The girls started out strong in the first two games (against Condon), but faltered in game 3 with serve-receive errors," coach Darden said. "Game 4 we cleaned that up and came up with a win."
Dufur (15-5 overall) is in Sherman for a Big Sky match at 5 p.m. tonight.
Redsides grab tourney title
Just earning tournament championship berth earlier in the year was not good enough for the South Wasco County Redsides – they wanted to complete the deal and hoist a trophy.
Of the nine sets played, the Lady Redsides lost one in going 4-0, capping play with a 25-10 and 25-16 score over Sherman to win the Redside Tournament crown Saturday in Maupin.
"The girls started the day off slow, but picked up their play as the day went on," said SWC head coach Ron Townsend. "We showed stretches of very good play as we continue to work on our consistency."
In the pool play rounds, the Redsides kicked things off with a tussle against Helix and won the opening game by a 20-16 score.
The Grizzlies bounced back in the second set for a 20-9 output to event things up at 1-apiece.
SWC closed out Helix in the third game and racked up a 15-10 tally to move their record to 1-0 on the day.
After that opening match, the Redsides won their final six games by an average margin of 12.1 points.
Up next was Portland Waldorf and the Redsides dropped them by scores of 20-3 and 20-8, and North Lake suffered the same fate in its final pool play battle by marks of 20-7 and 20-13.
The lopsided win over North Lake put South Wasco County in the championship match against Big Sky Conference opponent Sherman.
SWC won the first game by a 25-10 outcome, but then they kept the surge going in their second game by posting a 25-16 winner to seal the championship.
On the day, SWC had 25 aces and connected a 92.3 percent rate overall in four matches. While hitting, SWC rolled 92.3 percent.
Zoe Morelli averaged 3.1 kills a set and had four aces after going 19 for 19 on serves.
Joy Kelly picked up 1.9 kills a game with three aces, Katherine Popchock had 1.3 kills a game and dropped four aces.
Roxanne O'Neal added five aces and 1.2 kills a set.
"I thought our setters Molly Foreaker and Kelsie Olson had a good day setting the ball to our hitters and mixing up our attack," Townsend said.
South Wasco heads to Portland for a match tonight at 5 p.m. versus Trinity Lutheran.