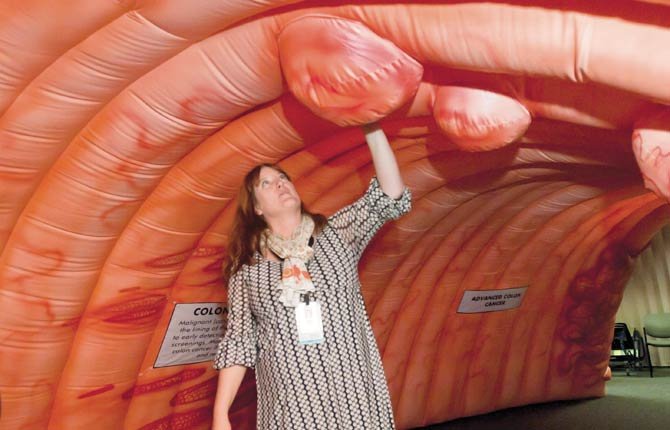 The Dalles — Mid-Columbia Medical Center is hoping to reduce the high rate of advanced-stage colon cancer in the area with an unusual show-and-tell for businesses and organizations.
The 20-foot-long plastic colon is 12-feet wide and easily inflatable so it can be set up in any large indoor space (outdoors will not work due to wind gusts). A walk through the tunnel shows the progression of medical issues that lead to cancer, from polyps that will one day turn malignant to the inflammation of Crohn's disease in the lining of the digestive tract, which increases the risk of cancer.
"It's super visual, it really gets your attention," said Sharla Weber, client services coordinator for MCMC.
She saw the colon on display last year at a health fair and made it her mission to obtain one for the local hospital. Most of the $6,000 cost was paid by the employee fund at the hospital because of the equipment's educational value.
"Fifty percent of people who have insurance don't get screened for colon cancer," said Weber. "This expense was well worth it if we can keep one person from getting cancer."
The colon will be set up Saturday at MCMC's annual Health and Fitness Fair, which takes place from 10 a.m. to 2 p.m. at Water's Edge, 511 Lone Pine Boulevard.
"The walk through the colon shows the progression from healthy colon tissue to the advanced stage of cancer that has wrapped around the colon and is ready to attach to another part of the body," said Weber.
She said physicians at MCMC are troubled by the fact that the Mid-Columbia has higher cancer rates than elsewhere in the state, although the exact reasons are not known. They are also concerned that many of their patients show up for treatment with stage three and four cancer, which is more life-threatening.
"People are resistant to go through the 'nasty' 24-hour process to get ready for a screening," said Weber. "But you know what else is 'nasty'? Going through radiation and chemotherapy for months."
She is referencing the liquid laxative that people are required to take the day before a colonoscopy to clear the bowel of fecal matter. During the cleansing period, people will spend a lot of time in the bathroom.
If dragging a giant colon around town is what MCMC needs to do to get people in for screening earlier, then Weber said that is what Dr. Keith Stelzer, radiation oncologist, and Dr. Steve Fu, medical oncologist, are prepared to do.
Stelzer will be present from 10 a.m. to noon at the health fair to answer any questions people have about cancer. He and other physicians are also willing to schedule a visit to an office or another event where the colon can be set up and information provided.
Saturday's event will also feature the new birthing tub that is now available for expectant mothers. In addition to a flu shot clinic, there will be cholesterol and blood glucose screening, a skin analysis, nutrition and cooking demonstrations, and even a fly fishing exhibition as part of the men's health sector of the show.
At 10 a.m., physical therapists will share tips on proper exercise for every age. Dr. Mark Cullen will provide information throughout the event on concussion prevention and treatment for youth sports and Dr. Mimi McDonnel will be present at noon for the Keeping Kids Fit and Fierce presentation. Dr. Gary Gingrich speaks about prostate issues that men face at 11 a.m.