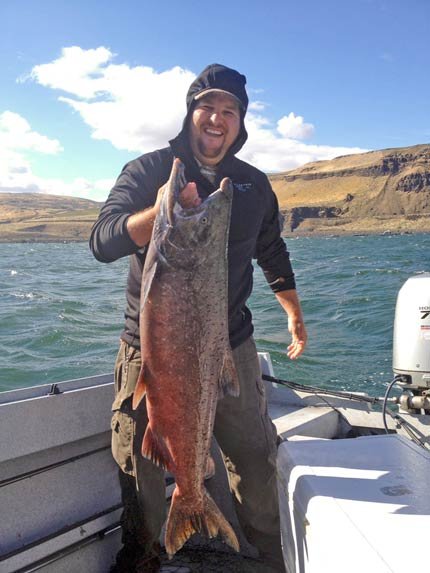 Rufus — Patrick Cummings of The Dalles used his best skills of persuasion on his wife, Amanda, when he convinced her to take another pass Sept. 18 at the mouth of the Deschutes River.
"I had already caught one nice 24-pound chinook and the wind was building all morning, so we were getting ready to head back home," Patrick wrote Tuesday. "I pleaded with her to let me make one final float (from east to west) fishing across the mouth of the Deschutes, then we would go home. The wife was cold and ready to go, but I lied to her, saying 'one more run, babe — I got a good feeling about this one." She rolled her eyes emphatically.
Cummings maneuvered the boat back upriver into the "sweet spot," dropped his line until it hit the bottom, reeled it up a bit and — "Slam! Fish on! I immediately know I had a big fish on because it didn't act like it knew it was hooked, but once I set the hook firmly, the fight was on!"
The 42-pounder ran about 60 yards away, then all the way to the bottom.
"As I started reeling it in, it began to fight more and more, dragging me around the boat 2½ times and even wrapped the line around the vertical shaft of the main engine, which wasn't running."
Cummings powered the motor up out of the water and, with a lucky flick of the wrist, was able to clear the line.
"Nice clear, honey!" Amanda said.
The fish fought until it ran out of energy and surfaced, about 15 minutes after being hooked, Cummings said.
"The wife said, 'OMG, you caught a seal!' It was so big, it was hard to fit in the net, but we were able to lug it on board."
Record chinook runs have been a sportsman's dream this month. The largest part of the run appears to have been around when Cummings landed his trophy, when adult chinook counts were above 20,000, but 11,150 adults passed through the dam Tuesday. More than 1 million adult chinook have passed Bonneville Dam this year. Contributed photo