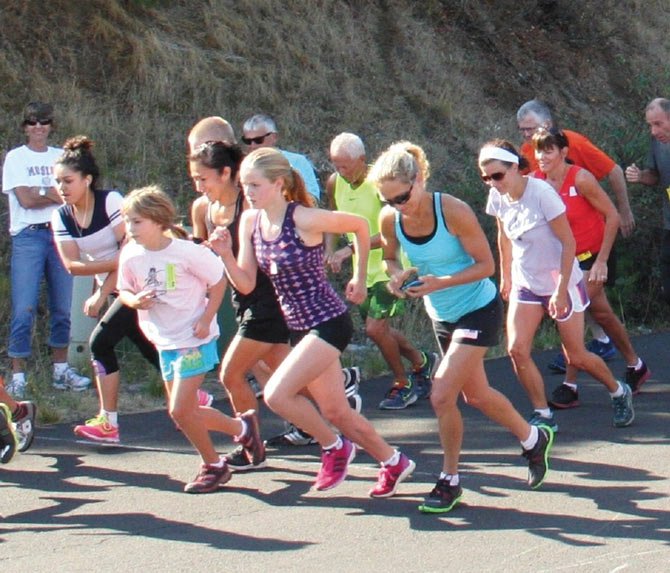 With the sun shining from above, the Mosier Twin Tunnels 3k, 5k and 12k run/walk paid host to 65 enthusiastic runners on Sept. 15 for local bragging rights.
In the 3k women's classification, The Dalles Wahtonka High School teacher, Dezi Gowdy, enjoyed a solid performance for her first win, as she stopped the watch in 18 minutes and 46 seconds.
Jacque Johnston ended up 28 seconds behind Gowdy with a time of 19:18 for second place and Ruth Berkowitz wound up third at 19:20.
Caroline Haynie and Jacy Johnston each claimed fourth with their identical 24:57 times, Sandra Haynie added a 31:19, and Georgia Haynie grabbed seventh place in 31:20.
Susan Hess placed eighth 31:22 and Fiona Dunlop ended up in ninth place at 37:18.
Gus Sabina, a Mosier Schools third grader, had the top time in the boy's division with a marker of 18:45.
In the men's 5k race, Alex Montoya notched first place in 19:53, Elkin Parker, an eighth grader from Mosier Middle School, placed second at 20:23.
Ronald Harper tallied third with a final time of 23:57.
Bob Fuquay (27:14), Brian Schimel (27:19), Zach Sabina (29:35), Will O'Neill (29:40), Kyle Chaffin (31:13), Gary Lundgren (36:08) and Bryan Grasseschi (39:04) all ended up in the top-10.
On the women's 5k side, Holly Higdon Wood, from Hood River, scored top honors with her 23:00, and another Hood River native, Sheila Burchell, placed second with a 25:28, and Betty Negrete was good enough for third in 26:39.
Kandy Flores ended up fourth in 27:53, Heidi Gustafson grabbed fifth with a 28:29, and Trudy Townsend scored sixth place honors in 30:17.
Tina Neal (30:18), Glenna Fuquay (37:28), Gwen Krause (41:27), Lisa Gee (43:10), Shelley Bailey (43:10), Iris Robinson (43:23) and Katie Ortega found her way home for 13th in a respectable 47:27.
The Dalles native Charlie Remington demolished the 12k men's field in his try at things and worked a 45:50 split for first place.
Gary Daubenspeck, of Hood River, tallied second place in 47:08, The Dalles' Greg Gustafson scored third in 51:18 and Dan Menard for fourth place at 57:17. Brad Anderson (57:49), Erick Haynie (58:01), Rus Hargrave (65:09), Bryan Mears (68:22) and Kevin McCabe 71:23) rounded out the top-9. Angela Krause claimed the women's 12k title with her time of 52:39, Asalia Valdez picked up second place in 54:57 and Sara Snyder ended up third at 57:52.
Maya Raylie (58:40), Rebecca Thistlewark (61:59), Amanda Hoey (63:38), Nicole Bassett (64:00), Elia Hernandez (65:42), Emilie Mikker (71:23) and Taryn Andree capped the 10 top finishers.