Most economic fallacies derive from the tendency to assume that there is a fixed pie, that one party can gain only at the expense of another.
—Milton Friedman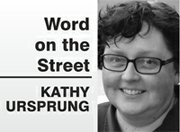 New face on the economic block: Mid-Columbia Economic Development District is hosting an AmeriCorps volunteer through the Resource Assistance for Rural Environments (RARE) program run out of the University of Oregon's Community Service Center.
Maggie Hanna will work as the district's Agora Investment Platform coordinator for 11 months.
Hanna was raised on a ranch in Hanover, Colo. she graduated from Trinity University in San Antonio, Texas, in the spring of 2011, with a degree in history and urban studies. Following her time in San Antonio, she spent two years working for El Pomar Foundation in Colorado Springs, Colo. Her work included grand making in rural regions of the state.
Hanna's work with the Agora Investment Platform will be focused on community outreach and education, to support the matching of community needs and projects to potential financing sources.
And speaking of loans: The USDA's Farm Service Agency now offers low-interest microloans with reduced paperwork to help farmers and ranchers.
The farm experience and collateral requirements for this loan program have also been modified to accommodate beginning and socially disadvantaged farmers.
Loans up to $35,000 can help with start-up costs or operating expenses. Find more information online at www.fsa.usda.gov.
Contract help: A workshop for managers of contracts, small or large, public or private, is being offered Oct. 9, from 1 to 4 p.m., at Columbia Gorge Community College in The Dalles.
After completion, students should be able to understand three key areas: the role of a project manager in the contract process, the roles and responsibilities of contracting staff, and the roles and responsibilities of business and finance staff.
Find registration information online at http://cgcc.us/schedule, or call 541-506-6011.
Do you have an item for Word on the Street? Email kursprung@thedalleschronicle.com, call 541-506-4601, or submit a news tip under the "Contact Us" tab at www.thedalleschronicle.com.