Carl Gustav Jung said, "Knowledge rests not upon truth alone, but upon error also."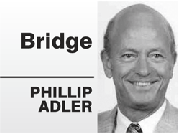 How true that is. All bridge players make mistakes. But each hopes to learn something from those errors.
Today's deal occurred during a social game. First, look at the auction. With which calls do you disagree and what would you have done differently?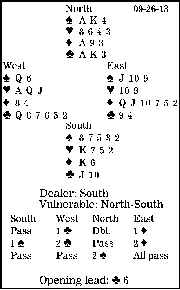 There were two clear-cut errors (and a few calls that were debatable). The definite mistakes were, first, North's passing over two clubs. She might have bid two no-trump, showing 18-20 points, because partner had promised some cards with his one-spade bid. (He would have passed with nothing when East responded one diamond.) A second possibility was another takeout double, typically indicating three-card spade support and extra values.
Also, South, over two diamonds, should have competed with two hearts. Of course, that might have got his side to four hearts, an unmakable game, instead of to four spades, the makable game.
Against two spades, West led a low club. South ran that to his jack, took dummy's top trumps, played three rounds of diamonds, ruffing the last in his hand, and cashed dummy's two club winners, discarding a heart while East ruffed in. East shifted to the heart 10, which South strangely covered with his king to lose three tricks in the suit and collect only one overtrick. Since West was marked with the heart ace, South should have ducked the heart. West would have won but would have been endplayed into conceding a second overtrick.