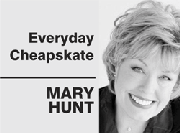 DEAR MARY: My husband and I own a small business, and we are looking for a credit card that offers reward air miles. Our plan is to pay it off each month but collect miles for travel to buy goods for our business. One of our sales reps told us that many small businesses pay for goods at gift shows with their credit card and use those miles to pay for trips to the next trade show. Do you know of a site where we can find a credit card for this purpose? Thank you so much. Your column is filled with wisdom and inspiration, and I really enjoy it. —Toni C., Wash.
DEAR TONI: Your plan is a good one, provided you really do pay the balance in full each month and your credit card has a 25-day grace period in which to do that. That way the miles you earn will truly be free. But if you should happen to lapse and let the balance roll to the next month, not only will you lose your grace period until the balance is paid in full once again, but you will also pay so much interest any miles you earn will pale by comparison. It takes effort and finesse to not get caught in the debt trap. If you decide to move forward with this, my advice is to stick with a personal credit card, not one that is designated for business. You want all of the legal protection afforded to personal credit cards by the Fair Credit Billing Act. To find a reward credit card, go to IndexCreditCards.com. Index Credit Cards offers a comprehensive list of current credit card offers. More than likely, you will have to pay an annual fee for the card, something you will want to weigh carefully against its potential benefits.
DEAR MARY: I have a new 100 percent New Zealand wool rug that has an unpleasant odor about it. How can I get rid of the smell? —Denise W., email
DEAR DENISE: You need to call the manufacturer (find the name on a tag and hopefully a phone number, too). In the meantime, your rug may simply be going through a process known as "de-gassing," as the chemicals used during the manufacture process are dissipating. If this is the case, the smell will go away by itself within a few weeks. You can hasten this process by putting the rug out in the direct sun (I would turn it right-side down to prevent any fading), being careful to not let it get damp and to bring it in at sundown.
DEAR MARY: I love picking up the small, boxed mixes by Jiffy because they are often so cheap. The trouble is, I don't always know what to do with them. Do you have any recipes that include these mixes? —Ruby G., Calif.
DEAR RUBY: The people at Chelsea Milling Co., manufacturers of Jiffy mixes, have you covered. Their website includes many recipes using Jiffy mixes. They offer a wonderful free recipe book you can download at their website or go to the site to request a printed copy of the book in the mail. It contains many new recipes, along with old-time favorites for all of the Jiffy mixes, including Jiffy Baking Mix and Jiffy Cornbread Mix. You can request a copy of Jiffy recipes at www.Jiffy
mix.com or by mail at Chelsea Milling Co., 201 W. North Street, P.O. Box 460, Chelsea, MI 48118-0460 or call 800-727-2460.
Mary invites questions at mary@everyday
cheapskate.com, or c/o Everyday Cheapskate, P.O. Box 2099, Cypress, CA 90630.