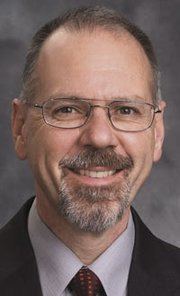 Rep. John Huffman, R-The Dalles, won't decide how to vote next week on a cluster of bills to deal with tax and pension issues until he's seen the final drafts.
"It's a rare thing to get to vote on a perfect bill," he said. "In my opinion, the various components that make up the special session business represent some good policy and some that I would not vote for if it stood on its own."
He, like the 59 other House members and 30 senators, have been called by Gov. John Kitzhaber to convene in a special session Sept. 30 to deal with several issues that were not resolved in a "grand bargain" earlier this year. On the agenda is:
• a $4.6 billion reduction in Public Employee Retirement System liability that will decrease payments by state and local governments, including school districts. The system has an unfunded actuarial liability of more than $15 billion and many private organizations and legislators want to limit the cost of living adjustment given to retirees in a graduated way.
They are also interested in preventing final average salary "spiking" by excluding health insurance payments. Under consideration is the removal of legislators from the program, reducing conflict-of-interest decisions and limiting benefits for employees convicted of on-the-job felonies. Elimination of the "collaring" gimmick of kicking additional employer liability to future years will also be reviewed.
• the first across-the-board tax rate cut for small businesses in Oregon since the 1980s, which many elected officials hope will encourage job growth. On the table is cutting the rate from 9.9 percent — one of the highest rates in the nation — to 7 percent. The rate for corporations taxed as the personal income of the owner would apply to the first dollars of business for small corporations and partnerships that employ non-owners and report "active" business income. Income tax liability would also be reduced for businesses that export goods and services, such as those in the agriculture and manufacturing industries.
• retention of the rate for corporations taxed separately from the owner at 7.6 percent for income above $1 million. Kitzhaber wants the legislature to preempt ballot measures being proposed for the November election by public employee unions to "double down" on tax increases for these corporations.
• limiting medical deductions for higher-income seniors, a single who earns more than $100,000 per year and a couple receiving $200,000. Oregon's medical deduction is currently the largest in the nation and the American Association of Retired Persons endorses reform, according to a position paper distributed to legislators.
• elimination of the $183 "personal exemption" for singles earning $100,000 or more per year and couples with $200,000 or more.
• adding $100 million to the 2013-15 biennium for K-12 education. The legislature authorized $1 billion more for schools in the current biennium at the regular session this spring. College tuition reductions of $40 million are also proposed.
• increasing the Earned Income Tax Credit by $12 million to benefit the working poor.
• dedicating $20 million to mental health services that will be funded by a 10-cent cigarette tax increase.
• prohibiting local governments from regulating genetically modified foods.
"My vote will go back to the test I always give a legislative concept: 'Does it do more good than bad?' 'How much does it cost?' and 'Can we afford it?'" said Huffman.
He said the goal is to spend one day at the capital but more time might be necessary to resolve issues that caused a deep partisan divide several months ago.
Republicans pushed for a lower business tax rate but Democrats worried it would create a tax loophole for the wealthy.
Huffman said the improving economy has brought in more revenue to cover some of the proposed increases in the education budget — if the Public Employee Retirement System costs can be reduced.
However, the public employees' union says that pensions are a contractual obligation and vows to legally challenge any cuts that result from the special session.
Kitzhaber has announced that it is "all or nothing" on the passage of five bills that could not make it through the regular session.