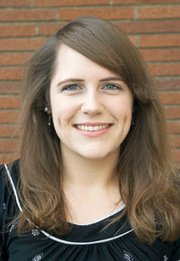 The Chronicle welcomes Victoria "Torey" Osborne to its reporting team this week.
Osborne, a 2009 graduate of The Dalles Wahtonka High School, has returned to her hometown to cover the local education and county government beats.
"It's a great opportunity and I'm really excited to get started," she said. "I intend to give this position the time and attention it deserves, and I look forward to learning more about the community and making a positive impact."
A recent graduate of Willamette University in Salem, Osborne is no stranger to Oregon or writing for an audience. As features editor for The Willamette Collegian, she worked to accurately represent her fellow students and engage readers in a discussion on important topics relevant to the community.
A self-described "people person," Osborne says she loves talking to people, learning their stories, and thinking critically about a wide range of issues. And good thing too, because she was challenged to do just that when she took on a several-months-long project as part of her anthropology major that involved intensive field work (a type of study that includes interviewing, participation and observation) alongside the implementation of critical theory in order to form an in-depth written analysis of a specific cultural community.
When asked what she considers her most influential experiences outside of education, Osborne immediately cites her travels away from home. Describing her role as a student delegate to Miyoshi City, Japan, for The Dalles Sister Cities Association in 2007, she said, "It was the first time I really experienced culture shock and it challenged me to rethink how I saw the world and how to approach and understand different points of view."
While discussing a more recent foreign travel experiences as a student participant in the 2011 China Advocacy Institute in Dalian, China, she added that "experiencing such different cultures really got me interested in learning and writing about real world issues and different ways of living, which is why I decided to major in anthropology and pursue professional opportunities in media and communication."
Osborne describes herself as very close with her family and passionate about the written word. Reading, writing, photography, hiking and river rafting are among her favorite pastimes and she hopes to serve as a positive, well-informed contributor to The Dalles Chronicle.
Reach Osborne by email at vosborne@thedalles
chronicle.com, or call 541-506-4603.