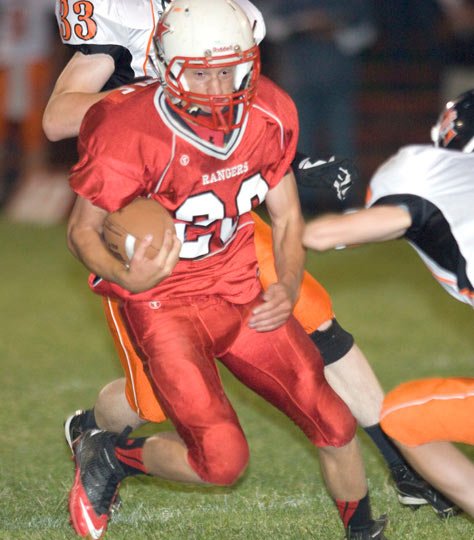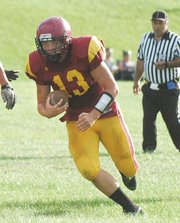 Three roadblocks stand in the way of The Dalles Wahtonka as it puts its best foot forward for a run at a Columbia River Conference title.
Hermiston is No. 1 on the list, and they are an impressive group to take on for their first conference game.
The Bulldogs enter play as the 5A classification's No. 8-ranked football program and boast a 3-1 record thus far.
Hermiston had wins over Putnam and Hillsboro to start the year, but ran into Sherwood for a 63-9 loss. Last week, at home, the Bulldogs got back to their winning ways with a 52-45 overtime win over Lewiston, Idaho.
Offensively, TDW head coach Steve Sugg compares Hermiston to his group, with an emphasis placed on spreading teams out with multiple formations.
"They will be by far the best team we have played this year across the board," Sugg said. "They've got more skilled kids than what we have seen. Some of the teams we played have one or two, they have four or five."
At quarterback, the Bulldogs have junior Chase Knutz calling the shots, and he has completed 70 of 137 passes for 1,040 yards with 10 touchdowns and four interceptions.
His favorite receiver is 5-foot-7 inch senior Ramon Contreras, who leads the team with 27 catches for 522 yards and five scores.
The other two receivers, Ethan Snow and Cole Smith, have 22 catches for 296 yards and four trips to paydirt.
Overall, Hermiston has nearly a 50-50 split offensively, but has run the ball 11 times more.
Costa Rodriguez is the lead back with 53 rushes and 392 yards to go with five touchdowns.
Many of the offensive elements are similar in scheme to what TDW runs, so it will be a mirror image on each side of the ball.
Last week, TDW held a high-powered Summit offense to just 137 yards and seven points in its 42-28 romp, but the key is for the Eagle Indians to try to keep Hermiston under the average of 28.2 points a game.
The Bulldogs kick in 39.5 points a matchup, including last week's 52-point outburst.
"We've got to play assignment football on defense," Sugg said. "We've got a lot of young kids with less experience. Last week, there were mistakes made and we changed some stuff up at halftime. As long as everybody does their job, does what they need to do and stays in their positions, we should be in pretty good shape."
Offensively, TDW appears to have its footing, with the numbers steadily improving as the season has wore on.
After scoring 18 points in a loss to Madison, TDW has averaged 40.3 points a game in this three-game winning streak.
Hermiston's defense held Putnam to seven points, but gave up an average of 43.3 to Hillsboro, Sherwood and Lewiston, so there could be some openings to exploit.
In Bend, Tribe quarterback Chaise Shroll finished 17 for 26 with 209 yards and two scores, and he added 12 rushes for 40 yards and three trips to the end zone.
Zach Nerdin had four grabs for 75 yards, Austin Dehart had three catches and 42 yards, and Devin Wilson had one catch go for 36 yards.
On the ground, TDW had 36 rushes for 116 yards with Nolan McCall leading with nine totes for 43.
Sugg wants his team start quick and not fall behind early like last week, because, through film, Hermiston starts fast to gain an advantage.
"They like to come out and use their explosiveness on teams to gain an edge," Sugg said. "It is important that we are ready to play from the get-go and [don't] make mistakes. It can come down to turnovers and executing on offense and defense that will win the game."
It is an exciting time for TDW football, and Sugg said it has shown during practice this week with a more focused and determined group.
"They set their goals pretty high. They set out to win league, so in order to do that, they have to win this game," Sugg said. "I think they are looking forward to it. It will be exciting."
Action starts at 7 p.m. and 1440 KODL AM will have the broadcast.
Running Rangers on to next level
The drive for five wins in a row starts at 7 p.m. this Friday for the No. 6 Dufur Rangers, as they are set for a Big Sky Conference football showdown against the Echo Cougars.
In this impressive streak, Dufur has scored points at a record pace, 246 in four contests, for 61.5 points a clip.
If they can continue this run, they will rack up 615 points, shattering last year's total of 427 points in 12 games.
"All of our kids have improved immensely since last season, this really is evident in our passing game," said coach Jack Henderson.
It was no more telling than last week's performance where the Rangers totaled 430 yards in a 62-16 rout of Arlington.
Of the 288 yards on the ground, Nick Little had five carries for 167 yards, and Bailey Keever had 53 yards.
Cole Parke finished 3 for 5 with 142 yards passing, and Jake Little and Trever Tibbets had a catch apiece for 140 yards.
"When we run the ball as well as we have been, the play action pass becomes huge, that creates guessing on the defense's part and that usually turns out pretty well for us," Henderson said.
In observing what his team needs to do to stop a Cougar defense that allowed 32 points to Crane and 22 to Wallowa this year, execution is pivotal.
There is hope that this display continues however, with Sherman posting 62 points and 600 yards against this Cougar group a week ago.
Things will still need to be settled on game night, however.
"Echo is a very disciplined football team that can hurt you in many different ways," Henderson said.
With several thoroughbreds in the stables, Henderson feels his offense can live up to its potential.
"We just want to be able to respond to whatever an opponent does defensively and take them out of what they are trying to do," Henderson said. "Our offensive line has jelled and become a force and our backs hit the holes at full speed."
On the other side of the ball, Echo has Ulissess Barrera and Devin Sather towing the rock with Danny Tappo at quarterback and Ryan Denning at wideout.
Barrera leads the squad with more than 510 yards rushing and nine scores.
Historically, Echo devises the same plan of attack with the rushing game gaining the yards.
Twice this season, Echo has scored as many as 50 points, but in two losses, they have scored a combined 14 points.
Since allowing 44 points to Cove on Aug. 31, the Ranger defense has given up 17 points a contest.
Henderson and defensive coordinator C.S. Little are well aware of the task at hand.
"They run option on offense, and have three kids that can hurt you," Henderson said. "[We will need to play] disciplined assignment football, playing with emotion and passion."
Back to business for the Huskies
Even without speedster Gabe Ovgard, who transferred to Klamath Union in the offseason, the Triad Timberwolves still have a variety of weapons to roll out onto the gridiron when they play against the Sherman Huskies at 5 p.m. Saturday in Moro.
Triad still has Josh Hutchison, Zach McCarty, Blake Trumbull and Stuart Teaford on a roster of eight seniors for a program that has won at an 80 percent clip in the past few seasons.
So far, it has been a mixed bag of sorts for the Timberwolves.
After stubbing their toe with two losses to start the season, the Timberwolves have righted the ship in some ways with two wins in a row over Powers and Butte Falls by a combined 93-28 margin.
While the lopsided wins over Powers and Butte Falls are impressive, both of those teams have a combined record of 1-6.
Through four games, Butte Falls has been outscored 219-6.
On the other side, when Triad plays teams with winning records, namely Lowell and Camas Valley, they lost and were outscored 136-56.
In last week's 51-0 shutout win over Butte Falls, the Timberwolves scored 37 points in the first quarter and rushed for more than 400 yards, using some trick plays and "swinging gate formation" where the center hikes the ball to his choice of players across the line of scrimmage.
McCarty and Hutchison racked up 208 yards on the ground on five carries and both Trumbull and Teaford tacked on scores as well to lead the offense.
It is going to be one of the toughest tests for a young Sherman defense that is ranked 32nd of the 44 squads in the 1A ranks in scoring defense at 38.5 points a contest.
From their first two games where they gave up 30 points in two wins, the Husky defense has allowed 124 points in the past two games.
Last week, this group surrendered more than 270 yards of offense and 52 points against the power running game of Echo in a 62-52 win.
If the Huskies are going to keep up the pace with Triad, the offense needs to execute on all fronts to maintain its 43-point-per game numbers.
In their 10-point win over Echo, Sherman amassed 600 yards, as Brett Evans led all rushers with 243 yards and three touchdowns, and Blake Evans chipped in with 150 yards and three more tallies.
Sherman is 2-0 against teams with losing records, and 1-1 versus Perrydale (2-2) and Imbler (3-1).
Triad does fall into the winning classification, so getting offense and a few stops in place will be paramount for success.
This is an OSAA Endowment game, so all spectators will have to pay to get in this game.
Admission prices are set at $6 for adults and $4 for students (any child age 5 and up through senior in high school).