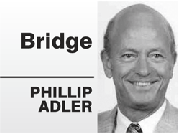 Anne Tyler said, "People always call it luck when you've acted more sensibly than they have."
That is often true, but there can still be matters out of your control. Take today's deal, for example. Look at only the North-South hands. In which contract would you choose to play?
When the deal was originally played, the bidding went as shown. North-South were using two-over-one game-forcing. On the third round, South broke a golden rule of Blackwood by using the convention with two fast losers in both unbid suits, with no guarantee that partner had a first- or second-round control in those suits. South should have bid four spades. Then, North probably would have passed, although with controls in both hearts and clubs, there would have been a good case for his using Blackwood.
Six diamonds and six spades are both excellent contracts, apparently losing only one club trick. However, at the table, against six diamonds, West led the club jack. East won with her king and realized that, unless West had a slow trump trick like jack-fourth, there was only one way to defeat the slam — shift to a spade. West happily ruffed and South unhappily wrote minus 100 on her scoresheet.
Then North pointed out that six spades was making. Against that slam, East's best lead is a low club! If North carelessly plays low from the board, West wins and gives his partner a diamond ruff.