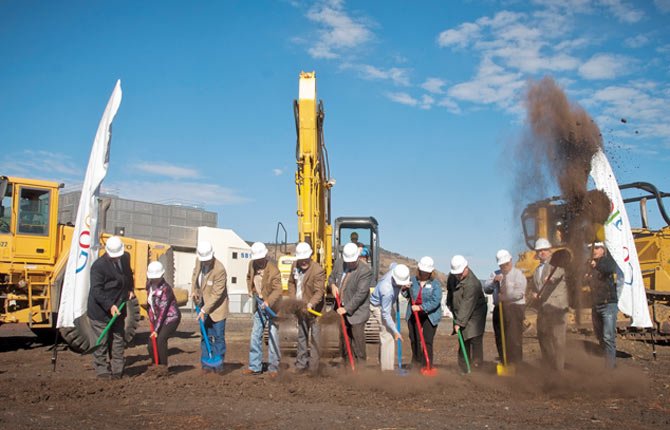 A Google executive announced at Thursday's groundbreaking ceremony in The Dalles that $600 million will be invested in a new data center, three times the requirement for a tax break.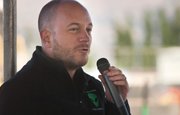 Benjamin Treynor Sloss, vice-president of 24/7 operations, said construction of a third building on the 37-acre waterfront property brings the company's local investment to $1.2 billion.
He delivered that message to a large crowd of local and state dignitaries on the Steelhead Way building site in an event made festive by shovels and banners painted in "Google-colors."
The green, red, blue and yellow theme also carried over to the icing on cupcakes that were served to government leaders gathered on the site that will soon house a 164,000-square-foot data storage center.
The scene on Sept. 26 was much different from the secretive process used by Google to open its first remote data center in The Dalles in 2006. That difference was noted by Wasco County Commissioner Scott Hege, who had been the executive director for the Port of The Dalles in 2004 when Google first inquired about purchasing property.
He said the company demanded that its name be kept secret until the deal had been finalized and construction was set to begin in 2005.
"All I was authorized (at a press conference) to say was, 'We are happy to have them here," he said.
Hege was one of two negotiating team members from the county that worked out a deal that provides Google with a drastic property tax reduction on its latest expansion. In exchange, the company will pay a $1.2 million project fee by the end of 2013 and $800,000 per year to government entities for 15 years after the new building is in service, expected to be in 2015.
"I think there are many great benefits The Dalles will realize, has realized," said Hege of Google's continuing growth.
Sloss said Google had made it a top priority to hire local employees – 80 percent of the original workforce – when the first two structures were built, and that would again be the case with the third facility.
That announcement drew nods of approval from The Dalles Mayor Steve Lawrence and other members of the city council, as well as the Wasco County Commissioners. Also in attendance at Thursday's ceremony was Rep. John Huffman, R-The Dalles, and spokespersons for U.S. Sens. Ron Wyden, D-Ore., Jeff Merkley, D-Ore., and U.S. Rep. Greg Walden, R-Ore. The federal officials could not be present due to voting obligations in Washington, D.C., but sent their congratulations to Google and local officials for negotiating a deal that could result in greater economic development.
"Google has been a terrific partner with Oregon and The Dalles for years now," read Wayne Kinney, field representative for Wyden, from a letter submitted by the senator for the occasion. "Google's current data center has brought good paying jobs and a real economic boost to the entire area. This investment and others demonstrates the Oregon advantage — world-class infrastructure, affordable energy and a dynamic workforce. When I was elected to the Senate in 1996 I pledged to facilitate ways for the Oregon economy to diversify. That is being accomplished in part by focusing on the opportunities that the digital economy offers. Investment's like Google's have gone a long way toward making that a reality. I want to thank Google for recognizing the benefits of the Oregon advantage and continuing to invest in our future."
Similar messages were delivered by Risa Wonsyld on behalf of Walden and Susanna Julber for Merkley.
Lawrence was the first elected official to take the podium. He had joined Hege on the team that negotiated the agreement to accommodate Google's expansion. Also involved in negotiations was Tyler Stone, the county's administrative officer, and Nolan Young, city manager.
"Google brings prestige to The Dalles, plain and simple," said Lawrence. "It adds significance, gives us a place in the world."
He said in addition to the $33 million investment and $250,000 annual fee that Google had agreed to pay for startup tax breaks on the original campus for each of 15 years — seven years are left — the company had donated $777,000 to charitable causes in the region. Google had also paid a large share of the expense to establish free wi-fi service throughout town.
"Google's heart is in the right place," said Lawrence.

Sloss and Dave Karlson, operations manager for Google's local campus, would not provide a timeline for the start of construction on the new structure, that will be called Building Two and located between Building One and Building Three.
"Let's just say it's imminent," said Karlson to a reporter's question.
In order to qualify for a state-sponsored Rural Enterprise Zone designation on the third building, Google had to not only agree to invest at least $200 million in the site but hire a minimum of 10 workers.
Because the company exceeded the requirement that it create 35 jobs with the first zone, Karlson was asked if that would again be the case. Google currently has 80 full-time employees and another 70 that provide contract services, such as food and security.
"It will likely be more than 10 jobs," he said, declining to speculate about how many more there might be.
Sloss explained the hesitancy of Google officials to provide more exact numbers. "The actual number we hire depends on how many servers we put in. Keep your fingers crossed that Google continues to make good products that people choose to use."
Hege said there has been criticism from some community members about Google getting a massive tax break when it would provide only 10 jobs. He said that figure is put into perspective when a comparison is made between Wasco County with a workforce of 8,070 and Multnomah County with 383,900.
"Ten jobs here equal 476 jobs in Multnomah County," he said.
The original $250,000 annual fee paid by Google is shared by several public agencies, the same arrangement that will be made for the new investment. Under the latest deal, the $800,000 will be split between the county at 35 percent, the city at 35 percent and North Wasco County School District 21 receiving the remaining 30 percent. Monies will be distributed to the fire department and other public entities.
"The money received will be used in ways that are visible and not just go into a general fund in the government and get lost in the coffers," said Lawrence. Google is headquartered in Mountain View, California, and has spent $21 billion on data centers around the world since 2006, the year it opened for business in The Dalles.
"There is potential for continued rapid growth," said Sloss. "The fact that Google not only chooses a site like this but chooses to expand it sends a message to other high-tech companies.
He said the gorge is a "great location" for Google because of its environmental stewardship, low-cost energy and scenic setting that provides employees with a range of recreational opportunities.
Huffman said long ago, when operations at the former aluminum smelter in The Dalles were faltering, government leaders came together to seek out other economic development opportunities. He said the family-wage jobs provided by Google were a testament to the hard work that had been done to attract a major new industry.
"I think Google epitomizes the goal we set back then," he said.