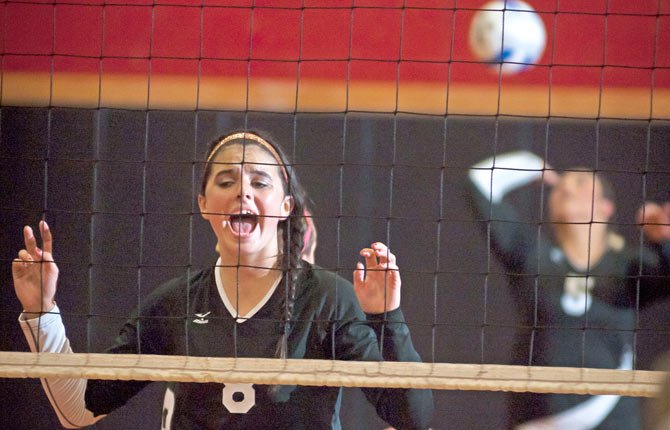 It seems like a bout of déjà vu for The Dalles Wahtonka volleyball team —where a fast start quickly fizzles.
This one is especially biting for the Tribe, who lost in four games to cross-town rival Hood River Valley Thursday in Columbia River Conference volleyball action at Kurtz gym In The Dalles.
"It is the same thing over and over. One minute it is one thing, the next it is the other," said TDW head coach Amy Schwartz.
"It comes down to communication and basic fundamentals. We have to get that down. We have to talk, we have to move our feet, or else we are not going to win matches. If we can play like we know we can, we are better than every team we go up against. We have not figured that out yet."
TDW got off to a quick start to this match by overcoming a 10-5 deficit with a 15-9 run to lead 20-19 at one point.
Eagle Indian setter Morgan Goslin flung out consecutive aces to make the score 22-19, but two hitting errors moved HRV back into contention at 22-21.
However, Olivia Starks levied a block kill, Hood River committed a hitting miscue and Tribe libero, Morgan Triperinas sailed in an ace to give TDW a 25-21 win and a 1-0 lead in the match.
The Eagles responded in the second game with a 25-17 decision to even the match, and the run continued in the third game after a 25-21 margin to move ahead 2-1.
Hood River staked itself to an early cushion in the fourth set and used that surge to post a 25-15 win to seal the win.
For the Tribe, Triperinas logged 14 digs, Goslin posted 12 assists, and Starks notched 12 kills and four blocks.
Lori Cimmiyotti went 13 for 14 on serves with three aces, added three blocks and slammed in five kills.
Hood River senior Tabitha Merten did not offer that some special speech was given in between the first and second games, just noting that her team finally woke up.
"I think we decided that we wanted to play and that we wanted to win, so we came through and did that," said Merten, who had a team-high four blocks.
"After that first game, our blocking improved a lot and our passing was more off the net, which allowed us to have better sets and more kills." Jestena Mattson and Jennifer Packer combined to notch 13 of the team's 26 kills, Alyssa Rangel had five aces and Kayla Byers dished off 12 assists.
Now the Eagles are 2-1 in league action, and this performance could be the beginning.
"It gives us the want to win and the mentality that we are going to do it," Merten added. "I think we have the ability to win conference and this win gives us more confidence in ourselves to believe that."
TDW will look to get things back in order at 8 a.m. Saturday for the Parkrose Tournament, while the Eagles host Hermiston at 6:30 p.m. Tuesday.
Dufur cruises past Horizon
Thursday afforded the Dufur Rangers an opportunity to play some young athletes on the volleyball court for critical experience against Big Sky Conference competition.
The trio of Tianna Ellis, Kelsey Johnson and Abbey Stelzer dropped a combined six kills, three aces and a dig to pace the No. 6 Rangers to a three-game sweep over Horizon Christian Thursday in Hood River.
In this match, Dufur did not allow the Hawks to score more than eight points, with the opening frame going down by a 25-4 tally.
Things were more lopsided in the second set, as the Ranger did not let up and reeled off a 25-1 winner to inch closer to a sweep.
They made the sweep come true with a 25-8 score in the finale.
That trio had three of the team's 47 aces, as Dufur hit on 93.2 from the service stripe with five errors. The team had 17 kills on 30 swings.
Kathryn Johnson laced out 15 aces and three kills, Kyla Johnson tacked on seven aces, two kills, five assists and a dig, and Alexa Macias added four aces, three kills, 10 assists and two digs.
Dufur is in Echo at 5 p.m. tonight.
After that, they host South Wasco County at 5 p.m. next Friday.
Redside netters roll past Sherman
Zoe Morelli tallied 13 kills and six blocks and the South Wasco County Redsides secured a three-game sweep over Sherman Thursday in Big Sky Conference volleyball play in Maupin.
The Redsides had their most lopsided score in the opening set with a 25-9 making the biggest difference.
In the second set, the solid play kept going with a 25-14 tally, and they completed the sweep on a 25-12 roll.
Senior hitter and former all-league player, Katherine Popchock, added seven kills and four aces, Joy Kelly chipped in with three kills and three aces, and Molly Foreaker made good on 28 assists to pace the Redsides.
As a team, SWC had nine aces and just five errors on 50 attempts.
"I thought our overall play tonight was quite good," said South Wasco County head coach Ron Townsend.
"We were more consistent in all phases of the game. Our hitters did a good job of keeping the ball in play."
With the win, the Lady Redsides picked up their fifth sweep in the last six non-tournament matches and they are now 3-0 against Big Sky teams.
This group next hits the hardwood at 5 p.m. tonight.