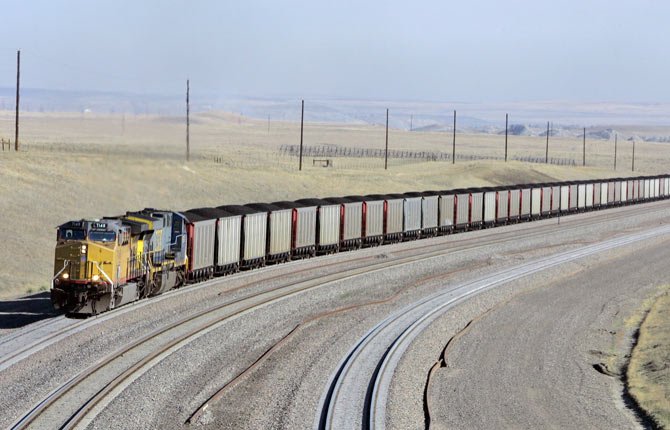 The Washington Department of Ecology held the first of five hearings last week on a proposed coal-export terminal in Longview that drew hundreds of people and even more comments.
Communities in the gorge will be affected by the outcome of Ambre Energy's proposal to build the $643 million Millennium Bulk Terminal in Cowlitz County. The Australian-based mining company wants to ship cement products and up to 44 million tons of coal each year to Asia.
That coal will be mined in Montana and Wyoming and is likely to be transported in eight trains along the Burlington Northern Santa Fe Railroad line through the gorge on the Washington side of the Columbia River. The railroad company has not yet confirmed the exact routes the coal trains will take for incoming and outgoing trips.
The terminal on the site of the former Reynolds Aluminum smelter is supported by business and labor interests that want to see thousands of new jobs created, especially in Cowlitz County, where Longview is located and the unemployment rate stands at 10.4 percent.
"The Millennium project is important to Longview and Cowlitz County — but also to Washington state and the Pacific Northwest," said Don Brunell, chief executive officer of the Association of Washington Business. "Private investment in this terminal will enhance our export infrastructure and strengthen our trade economy, helping ensure that our region remains a competitive hub for US exports and global trade."
The proposal has drawn fire from conservation groups concerned about local traffic congestion and coal dust along rail lines, and the carbon footprint and air pollution caused by coal-fired power plants worldwide.
"Coal export threatens the health, public safety and economic vitality of our communities," states a Power Past Coal coalition call to action. "Coal is a dirty and dangerous combustible fuel that coal companies would put in open rail cars to travel through our communities and on massive cargo ships through our commerce corridors, fishing grounds and recreation areas. Coal exports would increase strip-mining and worsen the climate crisis."
The first hearing was Sept. 17 in Longview and a second hearing took place Sept. 25 in Spokane. Still to come are hearings Oct. 1 in Pasco, Oct. 9 in Vancouver and Oct. 17 in Tacoma. Written comments can also be submitted until Nov. 16 on the potential environmental impacts of the terminal that citizens believe agencies should take into consideration (see DOE website www.ecy.wa.gov for more information).
The Longview terminal is one of three surviving projects out of six potential applications involving locations across the Pacific Northwest. Also under consideration by state and federal officials is the $655 million Gateway Pacific Terminal in Whatcom County near Bellingham that would ship up to 48 million tons of coal each year to Asia. That project was brought forward by Seattle-based SSA Marine and Peabody Energy, headquartered in St. Louis, and involves as many as nine incoming trains per day along Burlington Northern lines.
Hearings for both projects are being conducted by the Department of Ecology, the Army Corps of Engineers and the host county. The Corps will issue a separate environmental analysis that is more limited in nature than work being done by DOE, which has taken the unprecedented position of conducting its own review of the projects.
That decision in July was a victory for elected officials supportive of Power Past Coal and the Sierra Club's mission to stop mining and use of coal as an energy source altogether.
Proponents of the projects say Washington officials are opening the door for state and federal bureaucrats to decide that global warming impacts, local atmospheric conditions in foreign countries and other non-local impacts can be considered in the approval process.
The Corps announced in June it would not study the environmental impact of burning coal or evaluate transports of the material that were not near proposed shipping facilities. The state intends to evaluate a broad range of indirect and cumulative impacts that could occur within and beyond Washington.
The environmental review process is under way for Gateway, but a new hurdle has emerged with the Lummi Nation, which is objecting to more ship traffic in the waters where they have fished and conducted religious ceremonies for centuries.
The period of time for people to raise issues for study in regards to the Coyote Island Terminal project in Morrow County, the lone proposal for Oregon, ended in August. The state Department of Environmental Quality received more than 20,000 comments, split about 50-50 in favor and opposed, according to Mark Fisher, senior permit writer for the agency. Ambre has proposed to barge about 8.8 million tons of coal each year from the Port of Morrow down the Columbia to the Longview export terminal.
DEQ has sought input as part of the permitting process for the facility, which will receive and store coal in enclosed buildings before transferring it to barges using an enclosed conveyor system. The agency's permitting process can focus only on the work involving coal that takes place at Boardman and cannot factor in the issues of climate change, rail traffic, broader coal dust emissions, or the economic benefits of the operation.
The Corps is responsible to provide the permit that will allow a dock to be built for the undertaking and has yet to decide if the same in-depth review should take place that is now underway for Longview and Cherry Point.
In June, the Sierra Club filed a lawsuit against Burlington Northern in federal court in Seattle. The organization claims that coal train dust is blowing off trains along Washington rivers and in the Puget Sound, which is polluting endangered fish habitat.
Four of the railroad company's 35 to 40 trains per day carry coal on gorge rail lines.
Last week, Burlington Northern announced that it had voluntarily agreed to establish a re-spray center at Fraser Surrey Docks in Vancouver, British Columbia, to address concerns about dust.
The company said it still firmly believes its coal-loading rule that requires application of a topping agent to contain dust effectively addresses the issue. However, railroad officials said they are taking extra steps to demonstrate their "ongoing commitment to the communities where we operate that coal dust will not be an issue."