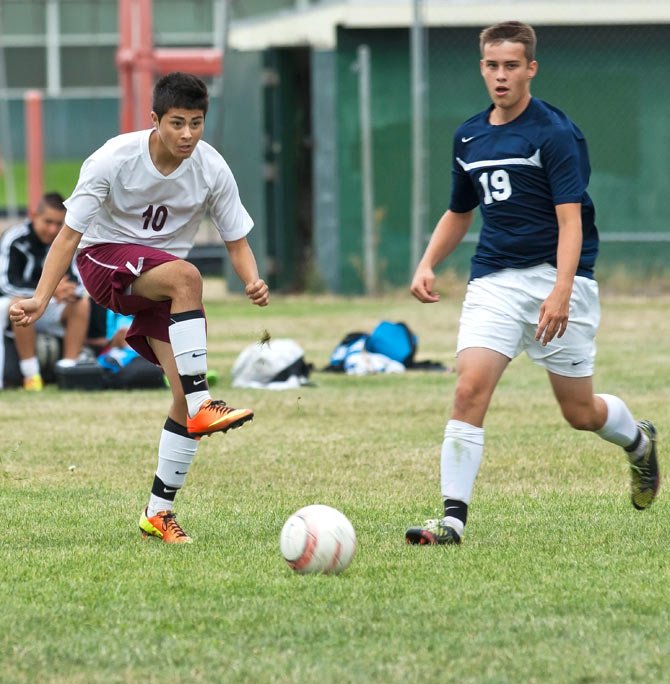 In a final preseason test of 2013, The Dalles Wahtonka girl's soccer coach Colby Tonn deemed his team ready to roll against Columbia River Conference opponents Hood River, Hermiston and Pendleton.
Yesenia Aguilar and Brooke McCall each scored goals and Nayeli Lopez posted a shutout to lead the No. 19 Tribe to a 2-0 victory over Benson tech Thursday in Portland.
"It was nice to end our non-league schedule on a high note," Tonn said. "Now, the kids are ready to go into league with some momentum and confidence."
Both teams fought to a standstill through the game's opening 40 minutes of play, but in the final half of the second stanza, the speed and precise passing gave the forwards and midfielders room to navigate.
At the 71st minute, Aguilar scooped up a pass from freshman midfielder Sierra Watson and deposited a shot past the Benson goalkeeper to move TDW ahead by a 1-0 score.
Five minutes later, McCall drained her team-leading fourth goal of the season, from 18 yards out, on a high shot over the Benson keeper's head.
For the fourth time this season, the TDW defense held an opponent to less than a goal, but what made Thursday's effort most impressive is that Lopez did not make any saves.
"The girls played pretty well today," Tonn said. "They dominated possession and the play on the field, they were winning 50-50 balls and playing the ball out of the air."
Tonn credited his team's patience with Benson's defensive scheme, one where the defense played all the way back in front of the keeper.
"It took us awhile to break through their defense. They had more people behind the ball than normal," Tonn said. "We hadn't seen that style of play all year or the past two years and we were able to see some things that we need to work on to help break down a defense like that. We did a good job of sticking with a plan and accomplishing it."
In looking at the rest of the CRC, just Pendleton and TDW have records above .500, while Hermiston and Hood River are 4-8 in their 12 matches.
Aside from a 9-1 blowout loss to Hillsboro suffered on Tuesday, the Eagle Indians have defeated Mac-Hi, Madison and Benson and tied with 6A Century.
Those earlier performances are good measuring stick to see how TDW would take hold in league play starting at 4 p.m. Tuesday at home against Hermiston (1-4), who is riding a four-match losing streak.
"I think we are ready," Tonn said. "We know how we need to play, so now it is my responsibility and their responsibility to get themselves ready to go out there and get the job done. We know we have the ability to compete and have success in league, so it is just a matter of going out and doing it."
In junior varsity play, Ally Gibbons rattled off a career-high four goals to lead the Eagle Indians to a 8-0 blanking of Benson.
Added to Gibbons' heroics, Jennifer Bonham scored twice, Hannah Mazeski notched a goal and Lupita Madrigal put in a tally to cap the season-high scoring surge.
Tribe boys lose to Benson
With as much success as the Eagle Indian girl's soccer team had against Benson, the boy's team struggled early on and ended on the bad side of a 3-2 loss Thursday in The Dalles.
Benson got two goals from Chetan Prakash and another from Fernando Ramos in the win.
The Techmen led 2-0 through 40 minutes on goals by Ramos and Prakash.
In the second half, TDW stormed back with a pair of goals.
At the 52nd minute, senior Christian Garcia scored a goal on an assist from Andres Manzo to bring TDW to within a 2-1 deficit.
Eight minutes after that, Leo Hernandez evened things up with a goal.
At the 78th minute however, Benson goalkeeper Miguel Navarro booted a ball that flew past midfield into the Tribe end.
A bad bounce went off the Tribe defender to Prakash, who headed a shot past TDW goalie Bryan Sanchez into the net.
Four minutes then went by, but TDW could not net the equalizer.
TDW (1-4-2 overall) heads to Hermiston (2-3) for a match at 4 p.m. Tuesday.