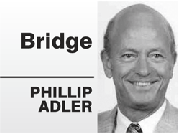 In the last two days, we have looked at deals in which a lot of errors were made. Let's end the week with one where the bidding was sane and the defense excellent.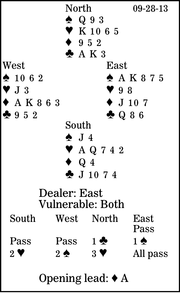 After three passes, North opened because her hand satisfied the Rule of 15. If high-card points plus spade length equal at least 15, open; otherwise, pass out the deal.
South, who would have responded two hearts anyway, was even happier here because he was a passed hand; North wasn't going to assume that his partner had a lot of points.
West contested with two spades (a makable contract), and North competed to three hearts with four-card support, despite her minimum count and flat hand. South passed, knowing that if game was good, North would have bid it.
West led the diamond ace. Then she did very well, shifting to the spade 10, denying the jack. That made it easy for East to win with his king and return the diamond jack. West won with her king and led another diamond, which declarer ruffed.
South drew two rounds of trumps ending on the board and called for the spade nine. East went in with his ace, but what did he do next?
Some players would have shifted fatally to a club. But East worked out declarer's distribution. South was known to have started with two spades, five hearts, two diamonds and, therefore, four clubs. East could not gain by leading a club, so he returned a spade and waited for his club queen to defeat the contract.