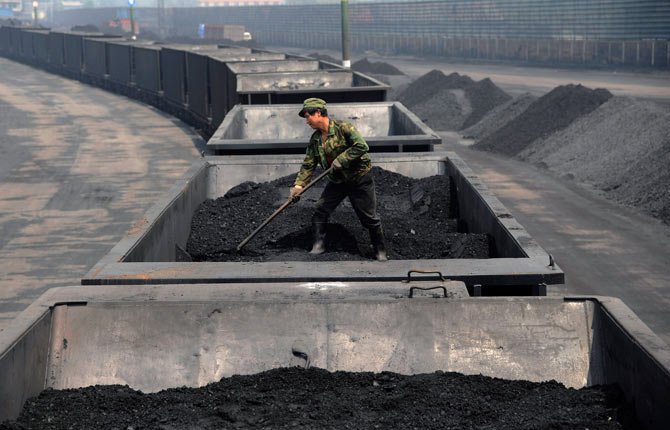 All or nothing seems to be the way most people view the coal issue these days. Public hearings on the subject, specifically the shipping terminal in Cowlitz County, Oct. 1 in Pasco, Oct. 9 in Vancouver and Oct. 17 in Tacoma.
We'd like to think some middle ground solution is lurking on the horizon.
Basic Columbia River Gorge concerns are simple: Residents don't want to see accumulations of grainy coal dust lining railways, interfering with fish habitat along waterways, or being lifted on the gorge's famously big winds into a cloud of rice-sized dust that obscures visibility and endangers motorists on the region's highways.
Rail companies require open coal cars to be sprayed with a hairspray-like fixative designed to keep the dust in the rail cars and out of the atmosphere, but enough people, including this editor, have experienced the aforementioned dust clouds to know that the fixative can't always stand up to wicked winds.
A simple solution exists for this localized concern: Cover coal cars at their origin. But rail and coal authorities don't want that added expense. Instead, they'd rather add an extra layer of fixative midway through the journey and hope for the best.
Ambre Energy has done it for the only proposed Oregon terminal. They plan to load coal in covered barges for the voyage downriver through the gorge. Why not do something similar for other projects?
Of course, that simple solution doesn't provide answers to potential catastrophes, like sinking barges and wrecked coal trains.
Coal and rail companies must be held accountable for any calamities they cause — and we know from other unlikely energy catastrophes that even slim potentials run the risk of becoming reality.
The much larger issue is the question of using coal as a fuel source at all. The ultimate aim of the Sierra Club's Power Past Coal initiative is to do away with coal as a viable fuel source.
Though most of the nation, especially the East Coast, is still heavily dependent upon coal as a fuel source, coal has lost its luster in the public's eyes as a viable fuel source because of the air pollution it causes.
The Columbia Gorge, in particular, has repeatedly rejected the idea of resorting to coal as a fuel source, even as power users have pushed closer and closer to the production capacity of existing hydropower dams, and made it doubly complex to put more hydro projects into operation.
Northern Wasco County PUD customers roundly rejected investment in a coal plant after the energy market disruption in 2001. Later, PGE succumbed to public pressure to add more pollution controls, and eventually close, the Boardman coal power plant.
Stiff opposition to using cheap and abundant coal in this country, has pushed western coal mining companies to look for other markets for their product — namely China — where pollution control measures won't be even close to as strict as in the United States, as a discussion at the PUD meeting Sept. 24 indicated. This means we may still get the pollution, but not the power.
And without stable U.S. markets, what are the incentives to develop cleaner coal technology?
Coal opponents say the U.S. — and other nations — need to look for cleaner alternatives to coal power. But the options of wind and solar are only intermittent sources, requiring other energy forms to fill in the load. That has increasingly become the role of hydropower, but hydro itself is an intermittent resource.
The new natural gas and shale oil fields in Canada and the United States, which some say have the potential to provide a virtually unlimited supply of energy that is cleaner than coal are also meeting with opposition due to fracking and other concerns.
Conservation remains the cheapest and best way to make ends meet in the energy field, but the public demand for power to fuel industry, personal entertainment and more, continues to rise.
So far, Power Past Coal knows what it doesn't want, but it hasn't offered any truly viable solutions on a large scale.