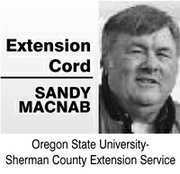 Fall is in the air and that means lifestyle adjustments for students and parents everywhere. Junior (or Junior-ette) is heading to college. It impacts everyone and not just financially.
It's a time that both parents and kids are ready for. One dad who was graduating his youngest child from high school was asked, "What are you getting him for a graduation gift?"
Without a hesitation, he answered, "A U-Haul."
It doesn't make any difference how smart or dumb, how hard-working or lazy, how introverted or extroverted the child is, when it's time to cut the apron strings, college provides a timely excuse. It's part of natural process and all species go through it, some with more drama than others.
Granted it is harder on some parents. One mom told me that after dropping her first born off at school, she couldn't even walk down the hall past the empty room without crying. But when daughter No. 3 was preparing to start college, she got upset because Mom was measuring her room to see how to arrange the new sewing room.
Parents become masters at packing everything the student needs to survive into the family vehicle. When I started at Oregon State, we loaded all my necessities into the family car and headed to campus, along with Dad and Mom, my sister and my Grandmother as we were also planning to attend my cousin's wedding that same weekend. So we had all their goodies for a weekend as well. It was what one might call "snug."
During my junior and senior years, I earned board and room serving as a resident assistant, or "RA"; a house mom to 45 to 70 younger students, who respected my age and wisdom and often sought my sage advice and consolation for personal issues...when they weren't penny-ing my door tight so I couldn't open it.
The first student on my floor had hitchhiked across country from Philadelphia. He had a backpack and an airline carry-on bag. All his worldly possessions were there. So I watched as he unloaded, partially to visit, partially out of curiosity. He dumped his backpack: three T-shirts, three changes of underwear, a pair of jeans, a toothbrush, a pair of swimming trunks, a sweatshirt, pair of clean socks and a BSR McDonald turntable. No amp, no speakers and no records; just the turntable.
Then he turned to the flight bag. What great possession did he have in this mystery bag? He unzipped it carefully and gently removed a cactus he had liberated in Arizona.
One never knows what type of student will arrive on campus or what they will make of themselves. Many will find that college isn't for everybody and will answer to a different calling that does not require a degree. You may meet travelers like our backpacking dude or like another of my dormies, the "Professor," Don Pettit. He's an OSU grad who has traveled over a year in space on three different space station expeditions. (Check him out on the internet for some amazing videos.)
One thing that connected nearly all students who succeeded was "responsibility." It was easy to separate the city kids from the farm kids because the farm kids grew up with responsibility, while many city kids never traveled more than six blocks from their home. We used to call them underprivileged. Might have come from a great high school, but just never had any world in which to apply their learning.
And they will find college different from high school. At Oregon State University, over a quarter of incoming students were the top 10 percent of their high schools and the average GPA for incoming students was over 3.56. Those who are responsible and had developed good habits are far more apt to succeed in four years or fewer.
So where does one get this responsibility? Parents insisting that kids have chores to do at home is a good start. But activities outside of school are an excellent source of learning those good survival skills.
Fortunately, the new 4H year begins shortly. That is a tremendous learning option. The Cloverbud program is opened to those in third grade and younger while fourth grade or older is required to become a full-fledged 4H member.
These programs involve a kid in an activity they already have an interest in and involve a project selection. Today's 4H is far more than cooking and cows… and does not require living on a farm to participate. There is a wide array of offerings and if something is not offered, inquire. The key requirement is to find a leader…and there are lots of responsible people capable of filling that role.
Start preparing your kids for college early.