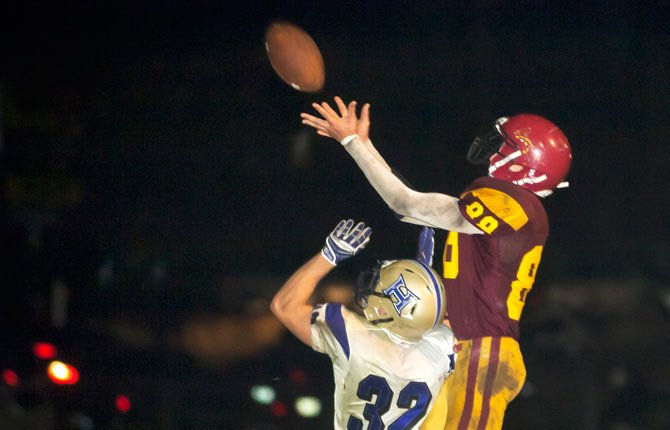 The message is pretty simple — the less mistakes a team makes, the better suited they are to winning games.
Friday night, The Dalles Wahtonka hit Sid White Field against the No. 8 Hermiston Bulldogs, and committed seven turnovers and rushed 22 times for 21 yards in a 51-0 loss in the start of Columbia River Conference gridiron action.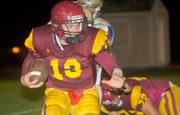 "In the games that we have won, we have only had one or two turnovers. Those are huge," said TDW head coach Steve Sugg. "We are not good enough at this point to turn the ball over that many times and survive no matter who you are playing. We have to cut down on the turnovers to give ourselves a chance."
Hermiston scored on its first five possessions and amassed 389 yards of offense on 23 plays.
Three of those drives ended in touchdown passes, as Bulldog quarterback Chase Knutz completed 11 of 12 passes for 224 yards in that span.
The final scoring drive of opening half came with nine minutes and nine seconds left in the second quarter, with Knutz connecting on a 17-yard pass to Ethan Snow to make it 34-0.
"We really made it a point to work the ball in the middle of the field because they bring up all of their players to the line of scrimmage," said tight end Cole Smith, who had a team-high seven catches for 122 yards and a touchdown. "It left the middle of the field open and we exploited it."
Although Hermiston tacked on 17 points in the final 33 minutes of play, they were held to 193 yards, 54 coming on a fake punt run, and they committed three turnovers, punted once and had the game end on fourth down.
"We did not come out ready to play and they took advantage of it," said Nolan McCall. "I thought we played better later in the game though. If you would look at the first half and the second half, there is big difference in how we did. We need to play like we did in the second half for the entire game to win."
While the Tribe defense settled in admirably, the offense still got in its own way in stretches.
The Eagle Indians fumbled twice, punted three times, had two drives end in a loss of downs and five interceptions. Six of those turnovers were in the opening half.
On third downs, TDW went 4 for 16.
Of the 66 plays run, 16 went for two yards or less, including nine for negative yardage.
A staple of late has been red zone execution, but Friday, TDW had three drives go as far as the Hermiston 25-yard line, but all of them ended in turnovers.
Tribe quarterback Chaise Shroll completed 13 of 37 passes for 220 yards with five interceptions and two fumbles.
Backup quarterback Zach Cantrell went 2 for 7 for 19 yards.
Pacing the receiving corps was senior Austin Dehart, who had nine grabs for a career-high 190 yards.
TDW's leading rusher was Blake Diede, who had four rushes for 13 yards, and McCall tacked on 10 yards on seven carries.
"We moved the ball on them early, but we had a couple of dropped passes and some penalties, but we just got off to a bad start and it snowballed from there," Sugg said. "I am not going to take anything away from Hermiston. They came in and were the better football team tonight. I think if we could have played error-free and cut down on some mistakes on defense, we could have given them a run for their money."
Even with the loss, Sugg still feels his group has four games to re-shuffle things and make a playoff run.
He is not going to give up on his team – he has invested too much time and energy to throw in the towel.
"In the last couple of weeks, we have worked our way up that mountaintop. We kind of slipped back a little bit today, but we have four weeks left and we can still make the playoffs," Sugg said. "We will bounce back. I believe in every one of these guys. We just need to keep improving."
TDW (3-2 overall, 0-1 league) next pays host to former coach Andy Codding and the Ridgeview Ravens (4-1) at 7 p.m. next Friday. The Ravens defeated Bend 35-33 on Friday.
In other football scores, Dufur defeated Echo by a 60-16 tally.
Check out full details in Tuesday's Chronicle.