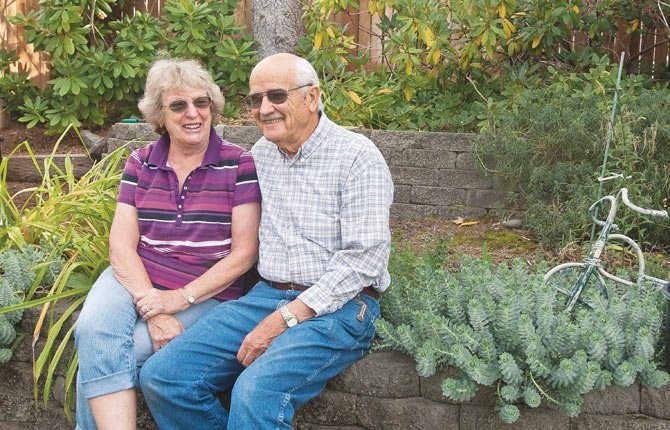 For some people, retirement means a lazy morning at home and a leisurely afternoon at the golf course.
For Laurance and Ava Kerr, retirement means cleaning up the Interstate, doing maintenance for a church camp, volunteering for the hospital, doing trail maintenance for the Forest Service, gardening, fishing, hunting, traveling and much more.
"We wouldn't consider sitting around. That's just not who we are," Ava said.
One of their current volunteer endeavors is heading up a group from St. Paul's Episcopal Church to keep the stretch of Interstate 84 near The Dalles clean through the Adopt-a-Highway program. The Kerrs decided to get their church involved with keeping the highway near The Dalles clean after they saw how dirty the Interstate was in one state they traveled through.
They recruited a group of about 15 volunteers from St. Paul's and helped them go through the mandatory safety training required to be an Adopt-a-Highway volunteer.
"They don't want anybody getting run over," Laurance said.
He said the group, which goes out about four times a year, has found plenty of interesting items. One volunteer found a check and returned it to the person who it belonged to.
Ava said they never know what they'll find.
"We've found several smart phones, the awnings off motor homes, a twenty dollar bill, plenty of dead animals," she said.
It might sound like hard work, but Ava said it's not bad.
"We enjoy it. It's actually fun. People honk and wave as they go by," she said.
The Kerrs also volunteer for a church camp near Cove, Oregon, doing "everything and anything" needed to keep the Cove Ascension School Camp in good condition. They also serve on the board.
Laurance said they no longer volunteer for the Forest Service, but did put in 10 years there, much of it spent on snowshoes. Ava said one of her favorite experiences volunteering for the Forest Service was doing maintenance on the historic Tilly Jane cabin.
Currently Ava also volunteers at Mid-Columbia Medical Center. She has worked without pay for the hospital for 35 years, doing everything from receptionist work to working as a buyer for the gift shop.
"I had elective surgery, and I had just been treated so well. Everyone was wonderful as caregivers and when I got better I just wanted to return that somehow," she said of her motivation for becoming a hospital volunteer.
Despite their busy schedule, retirement isn't all work and no play for the Kerrs.
"We love to travel, love to fish, love to hunt, love the ocean, love the beaches," Ava said.
She and her husband also enjoy square dancing and gardening.
Ava said they were always traveling and camping, even when their three daughters were young. The couple took three cross-country skiing trips across Europe in their younger years.
Their latest adventure is a cruise to Alaska they plan to take soon to commemorate their 60th wedding anniversary.
"It's a long time. A lifetime for a lot of people," Ava said of how long they had been together. "We married young and managed to stay together."
How did they manage to stay married for six decades?
"Just love," Ava answered simply.
The Kerrs said they have enjoyed living in The Dalles for the past 42 years. They came from the Umatilla area after Laurance, who worked for the Army Corps of Engineers, got a job working at the John Day Dam. Later he also worked at the Public Utility District for 10 years before retiring. The Kerrs raised three daughters in The Dalles and have since added four grandchildren and five great-grandchildren to the mix.
Ava said one of her daughters kept saying how nice and quiet it is now that her children have moved out. For Ava and Laurance, the words "nice and quiet" just don't go together.
"I told her, quiet is death," Ava said. "We enjoy being busy. That's just us. It's the way we are."