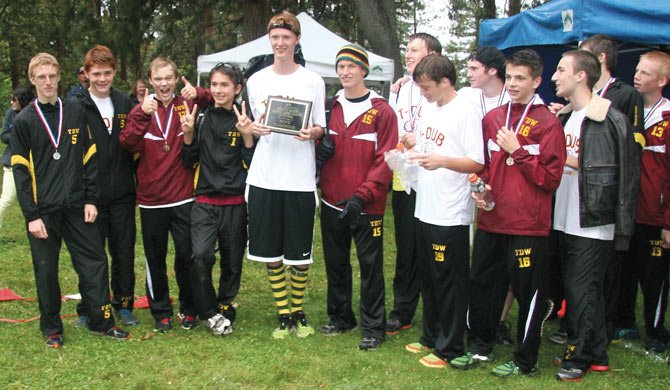 Somewhere up in the skies above, Bridgette Nelson was smiling.
The Dalles Wahtonka Cross Country team completed a clean sweep with wins in the boy's and girl's classification on rainy day Friday for the 22nd running of the Nelson Invitational at Sorosis Park in The Dalles.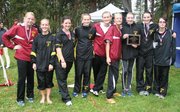 TDW head coach Bob Thouvenel had his teams ready to go on this festive day
"For the Nelson family and myself, this is a special meet," Thouvenel said. "Bridgette was a special young lady. She was one of those kids that came out as a freshman and you wondered if she was going to make it through the season she worked so hard. She made herself into a cross country runner through four years and continued to improve. She was an inspiration to all of us."
Using that motivating factor as a driving force, TDW junior Maddie Wood dusted the field of 34 varsity participants for first place in a time of 20 minutes and 48.6 seconds.
Right behind Wood was Hermiston standout Katie Markwick, who clocked in at 20:55.1, and Tribe sophomore, Emily Morin, grabbed third place at 20:58.6.
"I thought I did a good job of keeping my pace and running my race," Morin said. "Sometimes you try to go too fast, but I wanted to stay close and make a late run. I am very happy with how I did."
Caela Dunagan ended up seventh with her 22:15.1, Katie Burns churned out a 22:16.7 for eighth, and Molly Nelson rambled home in 22:47.9 for ninth place. Those times, and those of Luis Meyer (24:47.8) and Tai Rogers (24:54.0) put TDW in the top spot with 29 points, ahead of Hermiston (54), Umatilla (78), White Salmon (80), Hood River (102) and Toppenish (156).
"I am so proud of all of my teammates," said Burns, in her first year in cross country. "All of our top-5 girls were in the top-10 and we did really amazing as a team and improved from our last race. Every girl here wants to do her best. We get that energy from each other and we push each other to step it up even more throughout the whole race."
On the junior varsity side, Kellina Coy took first place with a time of 24:47.3, and Hannah Weeks worked a 25:25.1 split for fourth place.
Using a spirited pregame chant led by hulking sophomore Joe Linebarger, the Eagle Indian boys did just as well on the muddy track with seven ending up in the top-20.
Elijah Kohltfarber never batted an eye when faced with the task of facing some top competitors, he had his best mark on the Sorosis course of 18:19.7 to secure second place behind Umatilla's Fabian Cardenas, who had a 17:05.0.
A slight miscalculation cost Kohltfarber in the race, but he learned his lesson for future use.
"I wanted to get the first guy. One of my teammates took off and I wanted to catch up," the senior said. "I ended up second, which is still good, but I still want to get better."
Kohltfarber's times have been dropping quickly through the year. He attributes it to the many hours logged in practices.
"I try to do more and more without hurting myself and just making sure I put out that extra 10 percent in every race," he said. "You are only as good as your last race, so my goal is to move on from this and keep wanting more from out of myself. I think I have so much more to give."
Jony Nelson wound up in fifth place at 18:43.1, Luke McLean notched an 18:49.0 for sixth, senior Clayton Ringer motored home in 18:54.9, and another senior, Mark Johnson, scored an 18:57.0 for ninth place.
On the eve of his 18th birthday, Ringer was inspired by his time.
He chugged down the final stretch in such a hurried pace that he went back to his baseball roots running swiftly past the finish line in a head-first slide – An emotional ending to his running career on the unforgiving Sorosis course.
"It made me want to do better knowing that this is my last time on this course for this school and for this team," Ringer said. "I was just happy that I made it to the end in a good enough time to help my team. That is what this is all about. We are in this together."
Mark Dunagan placed 14th with his 19:13.1, and Mitchell Waters capped the varsity finishes with a 19:55.4 for 20th place.
TDW captured top prize with 30 points, ahead of White Salmon, who scored a 56. Hood River (87), Amity (112), Toppenish (119) and Umatilla (137) rounded out the standings.
Chase Snodgrass blasted the junior varsity ranks with a 19:07.8, and teammate Andy Felderman was right behind at 19:09.8 for second place recognition.
What gives coach Thouvenel so much leeway is the fact that all of the boys are interchangeable.
The top-7 flip-flop weekly, so the competition creates a better practice vibe.
"I think our team has a great chance to make it to state this year if we keep on with the pack running style that we have," Kohltfarber said. "We are pretty close to each other. If we can bring our times down, we might be able to have a chance of beating Hermiston at districts."
The Eagle Indian cross country squad next heads out to Portland at 10 a.m. on Saturday, Oct. 5 for the Champoeg Invitational.