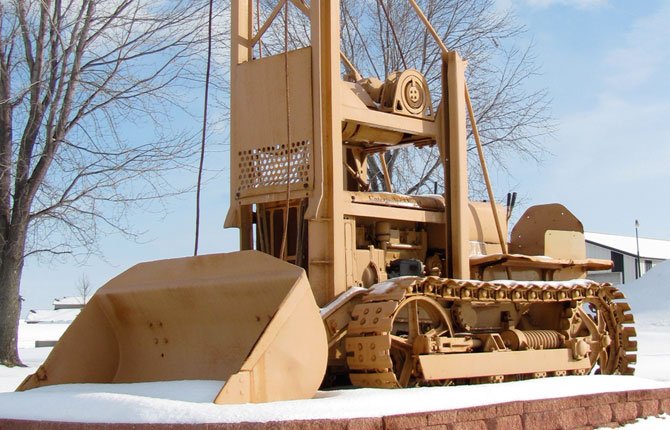 In today's world of multinational corporations, giant corporations spend millions for tax consultants to come up with complex strategies that will save them billions in taxes.
Their aim, of course, is to pay as little as they possibly can in income taxes on their profits.
These strategies are complex and more than a little devious, and steeped in the arcana of a complex field that more often than not calls for professional expertise no matter the tax bracket.
In a world where loopholes are bread and butter, Caterpillar Inc. may have gotten itself into a jam.
U.S. Senators will be hearing from corporate officials on what one senator calls an aggressive strategy to avoid paying billions of dollars in U.S. taxes.
Caterpillar has avoided paying $2.4 billion in U.S. taxes since 2000 by shifting profits to a wholly controlled affiliate in Switzerland, the Associated Press reports, based on a report released by Sen. Carl Levin, D-Mich.
The report stops short of accusing the Peoria, Ill.-based manufacturer of breaking the law, but does raise questions about the validity of the tax strategy.
Caterpillar officials say they comply with all laws and pay an effective income tax rate of 29 percent, among the highest for multinational manufacturers.
But that rate doesn't include 85 percent of its profits from its parts business, which were tranferred to CSARL, a wholly controlled Swiss affiliate, where Caterpillar pays a negotiated 4 to 6 percent tax rate to the Swiss government.
The problem is, the 4,900 employees working for Caterpillar in parts distribution are working on U.S. soil. CSARL has only 65 employees in Switzerland, so it seems pretty implausible that Caterpillar is running its operations there.
Caterpillar isn't the only multinational firm to come under scrutiny of Levin's Senate investigations subcommittee. Apple, Microsoft and Hewlett-Packard have also been examined. Levin said he chose Caterpillar because it was a clear example of tax avoidance.
The question of such strategies is not whether they are legal or illegal, but whether they are tolerable under the law.
These efforts to push and bend federal tax law to corporate advantage have been growing in recent years. That means patrol of these efforts need to increase.
Efforts like this one are another reason it's time to rewrite federal tax laws. Both U.S. Sen. Ron Wyden, D-Ore., who took the chairman's seat on the Senate Finance Committee this year, and U.S. House Speaker John Boehner, R-Ohio, give their "highest priority" to rewriting tax laws.
Of course, the devil is in the details, and their proposals are far enough apart to drive, well, a Caterpillar through.
But the complexity of tax code is already giving corporations — and anyone who can afford to pay for very expensive advice — far more room to maneuver than is reasonable or fair. And that means higher tax bills for everyone else.