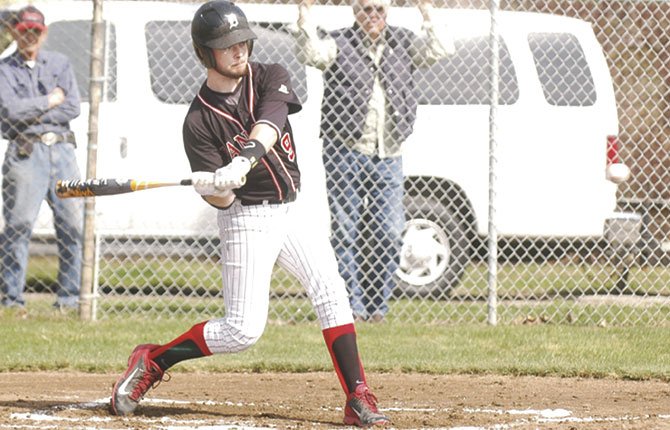 Dufur head coach C.S. Little felt all along that his baseball team has the capabilities of stringing together some big wins.
To walk away with three Les Schwab Icebreaker Tournament wins over Union, South Eugene and Grant Union this weekend in John Day put a nice cherry on top.
Cole Parke went 3 for 4 with a triple and four RBIs, and Trever Tibbets tossed six-plus innings with four strikeouts as the No. 6-ranked Rangers broke open a 2-0 lead with 10 runs in the top of the second inning and held off a late surge for a 12-8 victory Saturday over the host Prospectors.
"It was something I fully thought we were capable of," Little said. "It surprises us in that it crossed our minds that we were capable of something like this. It all came down to the fact of actually coming through with it. I thought we responded to the challenge very well."
In a way, it was a nice turnaround after Dufur lost to Grant Union 17-3 in a state playoff game May 22, 2013.
For their efforts, the Rangers slugged out 35 runs on 42 hits in 20 innings played in last week's tournament slate.
In its current four-game winning streak Dufur has averaged 11 runs a game, with every player in the batting order contributing in some form or fashion.
"We performed well. We hit the ball well," Little added. "Our bats carried us through the tournament. We are getting pretty decent pitching for the most part and our sticks are carrying us."
Up 2-0 through the opening frame, the Rangers sent 15 batters to the plate against Grant Union and posted a 10-run outburst to lead 12-0.
Grant Union methodically went to work at the deficit with one run in the bottom of the second and two more in the fourth before creeping closer with five runs in the home half of the seventh inning.
With Tibbets tiring late in the action, Little called for Josh Keyser to close out the win.
The senior right-hander faced three batters, but with two outs and a runner on base, Ranger catcher Jake Kortge gunned down a stolen base attempt at second base to notch the final out of the game.
Tibbets was credited with the win, as he added three walks, two hit batters and surrendered eight hits.
After Parke's three-hit effort, Lane Turner was good for a 2 for 4 split with an RBI and Keyser added a double and three RBIs. Tibbets also added a double in his four-at-bats.
While it was an impressive performance by his team, coach Little still wants his group to sharpen up a bit on some issues.
"In the last couple of games, we had a few errors. Too many for my liking," the coach said. "We are still leaving too many people on base, so we need to find a way to get some of our hits in clutch situations."
Dufur (5-2 overall) heads to Lyle, Wash. for a doubleheader at 3 p.m. Wednesday. After that, the Rangers travel to Culver for a non-league game at 4:30 p.m. on Wednesday, April 9.
That seven-day stretch comes at a time where coach Little can institute some added hours to make sure the team irons out a few of its early-season wrinkles.
"It's a fresh week and we will have some chances to shore up our game," Little said. "We had so many games this week that we weren't able to work on some of the areas of our game that we need to touch on in practices. We will have those chances with only one twinbill."