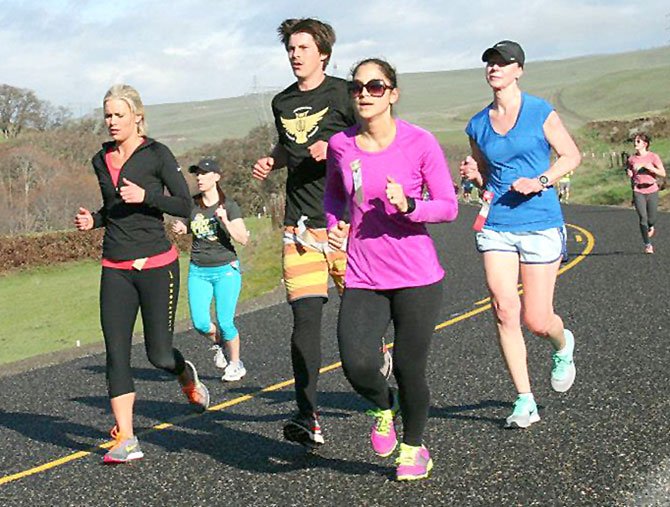 Although the rains have hit the Greater Columbia River Gorge area in the past couple of days, the calm of Saturday under sunshine and windless conditions for the Wheatfield 3k, 8k, half marathon at Petersburg School in The Dalles provided a perfect scenario for the record 200 participants who signed up for local running bragging rights.
The 3k race saw some of the closest times with the top-9 finishers coming in less than two minutes apart.
Cole Kortge proved to be on his game to headline the boy's division with a final tally of 13 minutes and four seconds.
Right behind him was Rhett Mosqueda (13:23), John Iremonger (13:49), Luke Petroff (14:11, Cullen Bryant (14:14), Gabe Petroff (14:38), Will Booth (14:39) and Paul Kelly (14:39).
In the girl's portion, Antonia Swan had no issues staking claim to her blue ribbon as she crossed the tape in an impressive 13:32.
After Swan, Riley Brewer (16:40), Lucy Booth (17:03), and Mikayla Kelly (17:04) made up the top-4.
Dezi Gowdy (17:57) and Vicki Petroff (19:55) rounded out the top-5 female harriers.
Charlie Remington never blinked an eye when looking at his combatants for the 8k race, and he pushed through for one of his best times, scoring top honors in 29:18, more than a minute better than second-place men's runner Joe Dudman (30:42).
Rolf Vellek (32:20), Mike Hannigan (33:17), Gary Daubenspeck (34:14), Curtis Roth (36:23), Matthew Moran (36:28) and Stephen Bradley (38:42) capped the top eight finishers.
Maggie Hanna captivated the crowd in the women's 8k event, where she had a good turn of foot in 36:22 for first place.
Emily Morin tallied second place at 38:19, Janelle Henderson made it for third place with a 40:03, and Tina Fauth added a time of 41:56.
All told, there were 83 devout runners penciled in for half marathon duties, a true test of a participant's' heart for 13.1 miles.
Sean Coster came through to lead the men's category in an hour and 15.37 minutes, a distance of more than five minutes ahead of Timothy Vandervlugt, who crossed the tape in 1:21.17.
Lucas Lembick (1:21.47), Patrick Hiller (1:21.59), Darryl Houghtelling (1:32.31), Jacob Boyd (1:133.30), David Wenceslao (1:35.25), Cliff Banister (1:37.42), Johan Keitz (1:39.47) and Clint Bogard (1:41.08) finished out the top-10.
Madeleine Sellers could not be stopped in her women's race and she kept a brisk pace throughout her efforts to win in 1:34.25.
Erin Ford (1:39.44) battled for second place, Ruth Schlacter (1:40.37), Bobbie Bustamante (1:42.11), Leanne Neal (1:42.20), Trisha Kepple (1:43:18), Patty Boyd (1:43:38) and Natalie Irzyk (1:44:31) capped the eight best women Saturday.
Up next is the Cherry Blossom Run at 8:30 a.m. on Saturday, April 26 at Dry Hollow Elementary School.