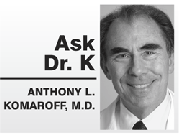 DEAR DOCTOR K: Are all germs dangerous to our health?
DEAR READER: Not all microorganisms (also called germs or microbes) are bad for our health — far from it. Our knowledge of the impact of germs on our health has expanded greatly in just the past five years.
I think of germs in two categories. First, there are the germs that enter our bodies from the outside world and are usually with us only temporarily. Second, there are the germs that constantly live on and in our bodies. .
Germs in the first category can sometimes make us sick. Other times, they are killed by our immune system before that can happen.
For years we have known that many of the germs in the second category — the ones living on or in us — are beneficial. These good microbes help us bolster healthy immunity, digest fiber, detoxify poisons and drugs, and even make some vitamins. So the answer to your question is that some germs are beneficial.
We used to think that most of the germs that live on or in us all of our lives were not affecting our health. We thought of them as just being along for the ride.
In the past few years, there has been an explosion in our understanding of the germs that always live on or in us. We always knew there were a lot of them: There are 10 of them for every one of the cells in our body.
There are four main categories of germs that can enter our bodies: viruses, bacteria, fungi and parasites. Viruses are probably the most familiar. They are a marvel of biological simplicity. They consist of only a thread of genetic material — DNA or RNA — inside a protective coat. To survive and reproduce, a virus must penetrate into a cell. Once inside, it takes over the cell's biological equipment and churns out new viruses.
Bacteria cause many common diseases, including ear infections and strep throat. Bacteria are more complex than viruses. Most of them can live without penetrating into our cells.
There are many different types of fungi. They often live on or in us without causing trouble — unless our immune systems become weakened.
The final type of germs — parasites — are tiny animals that live in or on another organism. Malaria, for example, is caused by a parasite.
In tomorrow's column, I'll talk about the recent discoveries about how germs that live on or in us may affect our health.
Dr. Komaroff is a physician and professor.
To send questions, go to AskDoctorK.com, or write: Ask Doctor K, 10 Shattuck St., Second Floor, Boston, MA 02115.