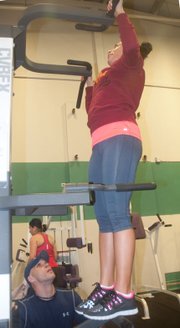 Folks who want to get in shape with a consistent and effective exercise routine, but aren't quite prepared for the full one-on-one attention of a personal trainer may want to try personal training in a group setting at The Dalles Fitness and Court Club.
"Basically, you get to do personal training with someone who's certified, but you get to do it in a group setting," said Jason Bullard, who is offering group training at the court club. "It usually helps with the cost. Also, just one-on-one with a personal trainer a lot of time can be overwhelming."
Bullard has been a personal trainer for four years, first at Water's Edge, now at the Fitness and Court Club. He became interested in the profession after sustaining a serious injury in the Coast Guard in a fall from a helicopter.
"I was hurt bad," he said. "I went through major surgery and I needed to learn as much about my body as I could. It was great training."
Now he works with people in all kinds of circumstances, whether training for a certain sport — tennis or weight-lifting, for example — recovering from an injury, starting from square one or wanting to increase the effectiveness of their regular workout.
"I work with different ages, different abilities," he said. "I structure the workout around the group and also the individual, too," Bullard said.
Sometimes, he works with friends or, in one instance, a married couple. But friendships can also grow through the group activity, he said.
Bullard's main focus is high-intensity training with cardio.
"It's the best burn for the bucks," he said. "The majority of the people I work with are women and they're looking for a calorie burn."
The idea is to keep the heart rate up with a continuous series of strength-training exercises, broken up by cardio exercises.
Most groups train with Bullard about twice a week, and there's a reason for that.
"I try to do as many full-body exercises as I can," he said, "and it takes more time to repair the muscle."
High-intensity training more often than that can hinder the muscles' ability to repair and improve.
Bullard also emphasizes variety in exercise.
"I try to change it up as much as I possibly can, targeting different areas of the body," Bullard said. "Every time you change your workout, it keeps you from plateauing."