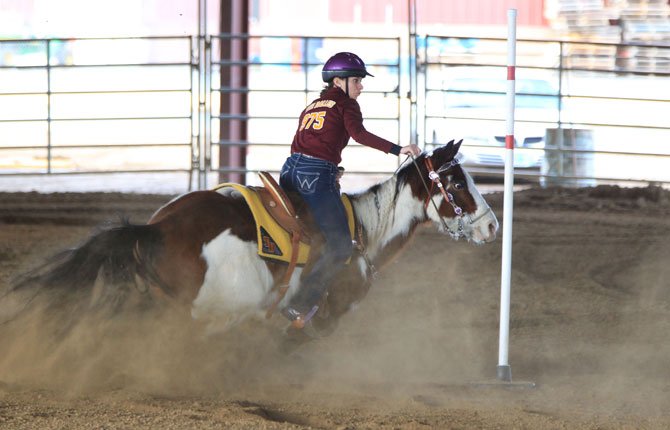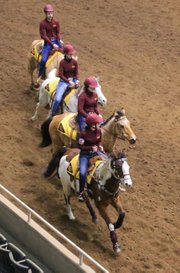 Coming off a solid starting point to the 2014 equestrian season, The Dalles added to their stout efforts with every rider putting forth personal records and career-best times at this past weekend's Oregon High School Equestrian Teams Central District action in Hooker Arena at the Deschutes County Fair and Expo Center in Redmond.
"This just goes to show you how well their training and hard work pay off even in one month," said TD coach Marie Cordell.
The Tribe coach added that every time a rider secures a spot in the top-15, it is a major accomplishment, especially given the level of talent on display.
In all, the Eagle Indians had five top-5 finishes and a pair of top-3 outcomes for 171 points and sixth place in the medium team classification after three days of equine action.
Sisters won the medium team division with 459 points, Madras had 376 points for second place, and Ridgeview had 324 to grab third in the standings.
Summit (243), Pendleton (210) and The Dalles (171) rounded out the rest of the teams with 7-11 members.
Both Hannah Simmons and the four-person freestyle fours drill team of Jacob Richman, Mackenzie Urness, Carsen Cordell and Simmons had top-3 finishes to lead the Tribe.
Coach Cordell is still amazed by that state-qualifying performance.
"They got third again, with more competition this time, and looks like we qualify," coach Cordell said. "These kids have been working really hard and doing extra practices just for this event."
Simmons placed second for her try at In-Hand Trail, and the quartet, in the freestyle fours drill, garnered third place.
Simmons was not done placing high, as she tacked on sixth place in showmanship.
"Hannah Simmons did a great job with a new horse this meet in In-hand Trail and Showmanship," coach Cordell said. "It is amazing when you have a horse like this to use. Thanks to Sara and Debi Ferrer, and Hannah, who worked so hard to learn the skills she needed to compete at such a high level."
On the individual front, Carsen Cordell had seventh place in the figure 8, tallied 14th in dressage, and added 24th in hunt seat equitation.
Richman added a sixth place in keyhole, Lauren Thalhofer racked up 15th in trail equitation and Richman carded 15th in individual flags.
Mackenzie Urness had one daub and a tally of 5.72 to grab 16th place in steer daubing, and she motored home in a time of 18.41 seconds for 38th place.
"I always tell the kids that there are so many competitors, if you make it to the first page of results you are doing really well, and we had a lot of that this meet," coach Cordell added. "Mackenzie Urness improved her times drastically this meet in Barrels, Figure 8 and daubed her first steer. Lauren Thalhofer competed in in-hand trail, showmanship and IHOR for the first time, and bettered all her times."
On the team front, the group of Thomas Richman, Jacob Richman, Simmons and Thalhofer did well enough for sixth place at the in-hand obstacle relay.
Urness and Cordell combined for 14th place for a solid effort at working pairs
Thomas Richman, Morgan Ramirez, Thalhofer and Simmons came through for a top-2 outcome in team penning, getting two pens, two cows and a total of 141.43.
The Richman brothers, Urness and Carsen Cordell scored a 51.16 for eighth place in Canadian flags.
Urness and Carsen Cordell matched up for a 34.50 in bi-rangle, Thomas and Jacob Richman had a 43.66, and Thalhofer and Ramirez ran off with a 49.53.
The Eagle Indian coach said the IHOR group had a good effort to grab sixth, and she mentioned that Canadian flags got the fastest time for the program in recent memory.
Although team penning did not fare as well, there is a plan to work on those elements more extensively in upcoming practices to make it up before the next meet.
"The team events were amazing. I am so proud of all of them," coach Cordell said. "We had a lot of change-ups on some of the teams and that made it a little harder, but they all did a great job."