But friendship is precious, not only in the shade, but in the sunshine of life, and thanks to a benevolent arrangement the greater part of life is sunshine.
—Thomas Jefferson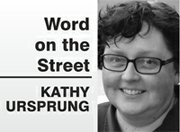 A helping hand: ELF Cleaning Service and Property Management has teamed up with Cleaning for a Reason, an international nonprofit foundation to help women battling cancer.
"When we found Cleaning for a Reason on Facebook, it was a perfect fit as we believe in giving back to the community," said owner John Fredrick.
The company has committed to helping women battling cancer by cleaning two homes per month for four consecutive months at no charge. The only requirement is that the homes be within the company's existing service area.
Online: www.elfjanitorial.com
New location: On the March 26 Chronicle business page we featured Essence of Peace LLC. At the time, the company was operating from a three-wheel bicycle, roaming around the city selling incense, soaps, lotions, bodywash and handmade jewelry.
On April 2, the company officially moved into its new location at 509 E. Ninth St. That's the southwest corner shop in the St. Vincent de Paul.
The owners invite the public to visit the store — and be sure to mention where you read about it.
They're also on Facebook at Essence of Peace Fragrances and More.
Local health lobby: Yvonne Pennell and Laurie Miller traveled to Capitol Hill March 18 and met with policy makers as part of the American Health Information Management Association.
Pennell, MS, RHIA, is the medical records director for Mid-Columbia Medical Center and Miller, BS, RHIT, CCS-P, is the clinic manager at Columbia Gorge Neurology Specialists.
They met with Dr. Justin Smith, fellow for Sen. Ron Wyden, and with Katie Troller, senior legislative assistant for Rep. Greg Walden.
AHIMA members urged Congress to move forward with implementing an updated medical coding system called ICD-10-CM/PCS and discussed other pending legislation that adresses health information issues.
Association members spent the day with representatives and senators from their home states highlighting the local impact of these national advocacy initiatives.
Knitting for a cause: Imperial Stock Ranch/Imperial Yarn and Imperial River Co. are hosting the first annual "Knit for Pink" efvent with world-renowned knitwear designer Deborah Newton May 30 through June 2.
It's one of the exclusive knitting retreats Imperial Ranch has been hosting in conjunction with Vogue Knitting since 2012, but this one is a little different.
Part of the proceeds from "Knit for Pink" will stay in Oregon, benefitting the Celilo Cancer Center through the Mid-Columbia Health Care Foundation in The Dalles, Sara's Project at the St. Charles Foundation in Central Oregon and OHSU Knight Cancer Institute in Portland.
In addition to inspirational knitting classes with Newton, the weekend will feature time spent on the heritage ranch wrangling sheep, watching work dogs in action and hanging out with cowboys in the breathtaking views of the Oregon high desert.
Guests will be welcomed by Imperial Stock Ranch owners Dan and Jeanne Carver, enjoy the lodge on the banks of the Deschutes River, and a five-course meal with wine pairing prepared by Executive Chef Mark Hosack of Gracies in Portland. Local musician Les Vaughn will provide the cowboy entertainment, and more.
Imperial Stock Ranch, a 143-year-old family-owned and operated ranch is located on more than 32,000 acres of Oregon high desert. It is the only operating ranch in Oregon designated a national historic district.
Online: www.imperialyarn.com
Power Breakfast: The Dalles Area Chamber of Commerce welcomes a return to work expert from SAIF at its April 4 Power Breakfast, from 7 to 8 a.m. at the Shilo Inn/Portage Grill.
Tracy Stephens will speak on the Employer at Injury Program (EAIP).
To buy tickets to this seminar, call the chamber at 541-296-2231 or visit the office at 404 W. Second St.
Get on your work gloves: Big Jim's Drive-in is offering a scrumptious incentive for volunteers who donate four hours of their time to The Dalles Main Street's downtown spring clean-up, April 19 from 9 a.m. to 1 p.m.
Contact Main Street coordinator Matthew Klebes to volunteer at 541-370-2966 or tdmainstreet@gorge.net.