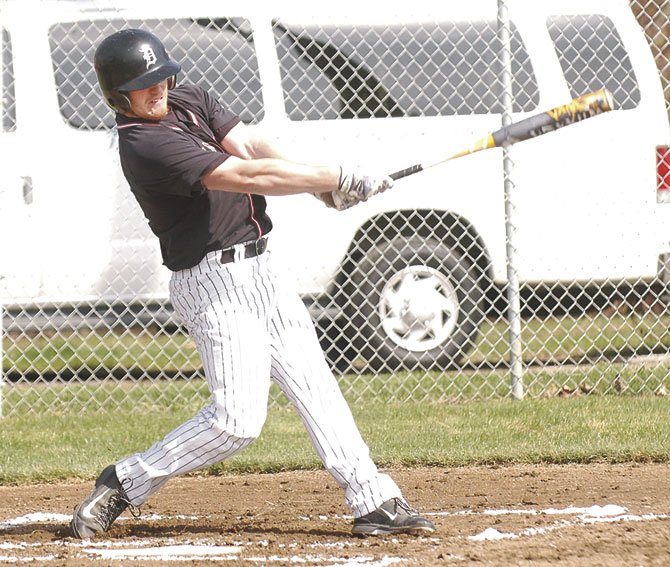 Just a few days after completing an impressive three-game tournament sweep in John Day, the No. 2-ranked Dufur Rangers hit the road again for a doubleheader against a Lyle baseball team that has gone through its fair share of struggles to start the 2014 campaign.
All signs pointed to a possible letdown.
Not the case for this Ranger group.
In just 10 innings played, Dufur rattled off 45 runs on 45 hits for a pair of lopsided road wins over the Cougars Wednesday in a non-league hardball matchup in Lyle, Wash.
"I was a little apprehensive going in because teams have the tendency to go into games of this nature and not perform well," said Dufur skipper C.S. Little. "Our bats started out hot, so it showed me that they were more than ready to play today. I was happy that we didn't have a letdown after having such a good week last week."
For the opening tilt, the rangers scored 15 runs in the top of the first inning and never looked back in cruising to a 26-2 mercy-ruled win.
In the first frame, Dufur slammed eight hits, were issued five walks, had two hitters plunked and took advantage of two Cougar errors to stake itself to a double-digit lead.
Kolbe Bales went 3 for 5 with two runs and three RBIs, and Brent Sumner added a 2 for 2 split with two runs scored and an RBI.
Brandon Broeckel added another two hits with a run and an RBI, to help pace the Rangers' 23-hit barrage.
All the offense was enough for the pitching duo of Jake Kortge and Bales.
Kortge tossed three innings of no-hit ball with six strikeouts and two walks to pick up the decision.
Bales finished the final two frames and allowed a pair of unearned runs.
The freshman southpaw surrendered two hits and struck out six.
In the second game, the Dufur offense kept its foot on the pedal with 22 hits, running free in the opening frame with 14 runs for a dominant 19-1 win in five innings.
Josh Keyser lasted all five innings and allowed one hit and one earned run to pick up his second win of the season.
In his five frames, the senior right-hander fanned nine and walked three.
Eight of the first-inning hits went for extra bases, two of them home runs.
Cole Parke rifled a leadoff homer, and Nick Little added a three-run round tripper.
Sandwiched between those long balls, Nathan Duling hammered two doubles, and the trio of Trever Tibbets, Kortge and Bryson Caldwell notched a double apiece.
Tibbets also tacked on a double in the inning.
Every single player on the active roster, 15, chipped in with at least one hit in the second tilt with only one strikeout, five total for the two games.
Being a veteran skipper of more than two decades, coach Little emphasizes the importance of cultivating the young talent he has at his disposal.
At any moment during a season, things can pop up, so having depth on the bench that is ready to contribute is an important element to have in his back pocket.
"We have had to throw some people into the fire for various reasons and it is nice to have that cache of ball players you can draw from," the Ranger coach added. "They know that when their number is called, they will be ready to go. The young kids did some great things. They came in played Ranger baseball."
Dufur (7-2 overall) has a week off before heading to Culver (4-2) for another non-league road tussle at 4:30 p.m. Wednesday.