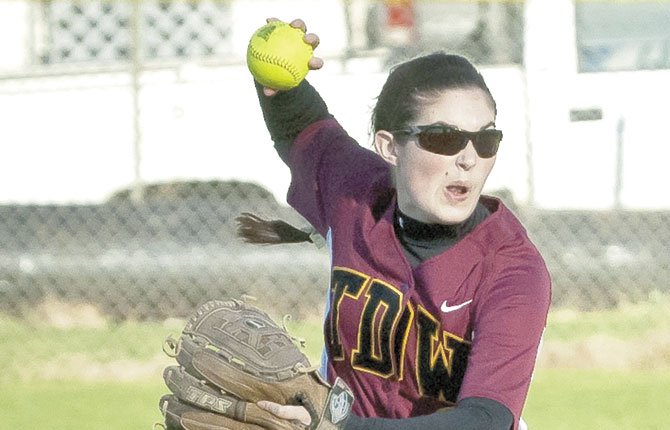 The Dalles softball coach Steve Garrett placed all blame on himself after his No. 9-ranked squad lost 9-2 Wednesday on the road to 6A Aloha.
"(They were a) solid club, but we were simply not prepared to play," Garrett said. "We usually have 90 minutes to get warmed up, but had only 35 tops today. Blame me for not insisting on earlier departure time."
Aloha rattled off 12 hits and started strong with four runs in the bottom of the first inning and capped the outburst with three more runs in the sixth frame to cement their efforts.
While the Lady Warriors were hitting at a successful rate, the Eagle Indians, who entered play averaging 10 runs a game, could barely muster any offense of consequence.
Only Jez Farrell, Morgan Goslin and Lori Cimmiyotti notched the hits, Farrell with the hardest hit, a double in the fourth inning.
With the scoreboard reading 4-0, the Tribe inched closer with a run in the top of the third.
Cimmiyotti and Hannah Harris reached base on back-to-back walks and then Ruthie Ford was hit by a pitch to load the bases.
With the meat of the order coming up, The Dalles could only get Cimmiyotti home on a wild pitch.
Down 6-1 in the fifth frame, Cimmiyotti led off with a bunt single and advanced to second on a groundout. With two outs, Goslin chased home Cimmiyotti on an RBI single, the last hit the Tribe would muster.
One major tell in the offensive deficiency was the output of the top of the order.
The quartet of Harris, Ford, Morgan Triperinas and Maddy Bradford combined to go 0 for 12 with two walks (both by Ford).
Farrell and Cimmiyotti each went 1 for 2 with a walk and Goslin had a hit in three at-bats.
Triperinas got the starting nod and lasted three innings. The senior gave up five runs on eight hits with no strikeouts and a walk.
TD (6-4 overall) will have a chance to rebound with No. 8 6A Reynolds (6-1) coming to town for a non-league matchup at 4 p.m. Friday.