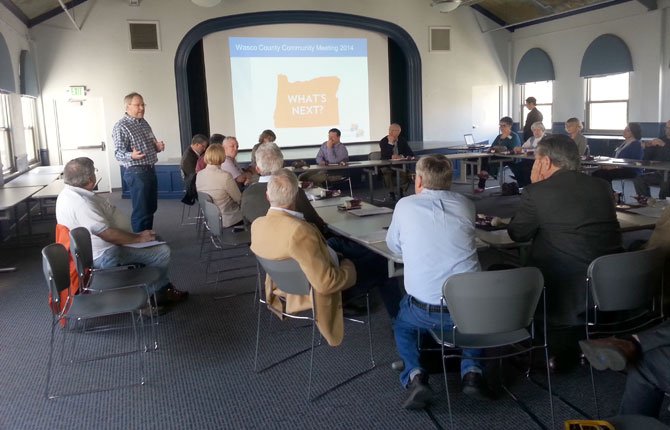 Mother may have taught that it's impolite to talk business at the table, but that was the only topic of discussion at a round table April 2 at Columbia Gorge Community College.
State and federal economic development leaders gathered in The Dalles for a themed tour of the area prior to meeting to talk about rural business issues with area leaders at the college. Among those present were Duncan Wyse, director of Oregon Business and an official from the U.S. Department of Commerce, as well as several of the state's regional economic development representations, and local officials from the county, cities and various business organizations.
"The goal is that we really can build a connection between the metro area and not just our rural area, but the rest of the rural areas in the state," said Wasco County Commissioner Scott Hege, who was credited with instigating the gathering.
Hege said the county's goal is to "increase jobs and investments to make the area a regional economic powerhouse."
Dr. Frank Toda, president of the college welcomed the group, noting that the gathering was about "building bridges."
As part of that effort, state leaders and others at the table received small bags of chocolate-covered cherries, a regional agricultural product that Toda said is small enough in value and publicly available, and therefore does not violate the state's gifts rules.
The first order of business was a quick overview of the Oregon Business Plan by Jeremy Rogers the plan's project manager at Business Oregon.
"It has seen tremendous activity and progress," Rogers said.
The plan was launched in 2002 after a process involving bringing together leaders of various state business organizations including Associated Oregon Industries, the Oregon Business Council and the Oregon Business Association.
The plan's three primary goals through 2020 include:
• 25,000 new jobs per year. Last year, Rogers said, the figure was about 40,000.
• per capita incomes above the U.S. average by 2020. That figure is about 90 percent now.
• reduce the poverty rate to 10 percent by 2020. It is currently about 15 percent
"Those are pretty lofty goals, particularly around income and poverty," Rogers said. "It will take all of us working together and aligning our business strategies."
The focus of the plan is on the trade sector, he noted, "those companies that export goods and services beyond the state of Oregon. We asked folks what they need to have a healthy environment."
The answer came down to four key items: people, places, productivity and "pioneering" innovation.
Toward those goals, Roger said the state is focusing on improving capital access, streamlining permitting, availability of industrial land and improving forest management, particularly to bring more jobs into the rural sector.
Focus also centers on the state's 40-40-20 educational goals to see 40 percent of students with a four-year-degree, 40 percent with a two-year degree and the remaining 20 percent with high school diplomas. Toward providing revenues to reach that goal, Rogers said, the state is working on lowering spending on Medicaid and corrections, and fixing the Public Employee Retirement System (PERS).
Progress is already being seen in some of those areas, most particularly special legislation aimed at reducing PERS liability and investing those resources into education.
Wyse noted several priorities that focus on rural Oregon: solutions to communities struggling with infrastructure, connecting education to careers and unlocking natural resources to restore rural prosperity.
"We are heavily focused on forest issues and water issues," Wyse said. "We want to spend time this year getting out around the state."
The goal is to use these visits to help shape the 2015 legislative agenda, he said.
"What I heard today was the most upbeat day in [rural communities] in a long, long time," Wyse said.
His examples included the Google expansion and expanding port facilities here and the port industrial park in Boardman.
"The Corridor here is doing unusually well," Wyse said. "It's so clean and clear. People seem so positive. Great things are being done."
Orchardist Donella Polehn noted that spring is "one of the best times of the year. The trees are in bloom. We're going on hope."
State leaders asked local officials about their greatest areas of concern.
Among those, Oregon Rep. John Huffman, R-The Dalles, noted that "regulations are a constant problem [as are] state decisions, and not just to this area in particular."
Huffman also noted the rural-urban contrasts in state investment, in particular the contribution of $20 mill to the Knight Cancer Center at the same time the Blue Mountain Mental Health facility in eastern Oregon was being forced to shut down, eliminating jobs in that area.
Huffman suggested perhaps saving existing jobs is as important as generating new ones.
Ken Bailey of Orchard View Farms pointed to labor and housing shortages as key issues in economic development.
"Already this year, we've reached the cap on H-1B workers," he said. These are special non-immigrant visas granted in the United States to temporarily employed workers in specialty fields.
Agricultural workers are another area of concern.
"We need to get this situation solved," Bailey said.
Housing problems in Wasco County, he added, range through all income sectors. The cherry industry brings in an estimated 6,000 to 7,000 migrant workers a year during harvest.
"If we don't have a place to house those people, we have major issues."
The tax credit that helped agriculturalists with migrant housing has sunset, he said.
Orchardists almost have to build worker housing on the farm, he noted. Otherwise, the demand for full-time housing fills them up.
"We have a major shortage of housing," he said.
He noted City of The Dalles efforts to bring housing back to upper stories in buildings downtown, and Huffman noted that housing is a Regional Solutions priority for the North Central Oregon region.
It's also a problem in Hood River, noted Mike Glover, Hood River Chamber director, where lack of housing is inhibiting the city's ability to bring in new businesses.
Community infrastructure is also a big area of concern, noted Andrea Klaas, executive director of the Port of The Dalles. Klaas also serves on the Wasco County Economic Development Commission.
"We need to be looked at differently [from metropolitan areas] because we have different economies of scale," she said, pointing to the "huge problems" small communities have with maintaining infrastructure like water and sewer systems.
"The cost of upgrades can't be supported by the rates of the communities," he said.
Wyse noted that the state is just getting started on an infrastructure study.
"It's a crisis in lots of parts of the state," he said.