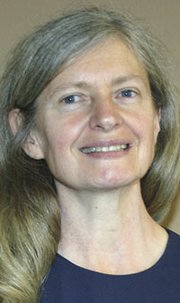 Mae Rafferty, resident of Selma, Ore., has decided to take a leap of faith and run for the office of governor on a Republican ticket this election season.
Rafferty is co-owner of a small lumber business in Grants Pass alongside her husband.
An elected Republican precinct committee member, she says she has attended countless meetings and heard dozens of speakers discuss the status of both the national and state governments.
Based on her experience at these meetings, Rafferty said, "There seems to be lots of neo-Republicans in the party, ones who do not hold truly conservative values. The new world order seems to be a lot more about control and less about protecting individual freedoms."
Governor John Kitzhaber isn't the only one whose politics she doesn't agree with, Rafferty said.
"There are six Republican candidates, including myself, and I'm the only woman on the ballot — but that's not the reason I'm running," she said. "The reason I'm running is that I just don't go along with my fellow Republicans' politics. It isn't just about running against Kitzhaber, the truth is that we all have our own ideas and have very different beliefs from one another."
One of Rafferty's top issues is the problem she says is inherent in allowing foreign businesses to "take over the local economy."
"I think this is a very big error we're making because, once they start coming, who knows when it will stop? It's just not a good idea. I'm not against some little Chinese family coming in and starting up a restaurant or anything, what I'm concerned with is when it becomes a bigger issue.
"The ones I'm talking about are large factories and corporations, not just small Chinese businesses," she said. "Many of them are owned by the communist Chinese government. Over there, the government owns the businesses. But that's just now not we do it here—that's not the American way. The more we allow in, the more controlled we become. I don't want to live in a state like that, and that's why I'm running. Yes, we need to eat and we need to work, but freedom should be our highest priority."
As a small business owner herself, Rafferty says she's "seen a lot of foreign businesses come in and take over a community."
The people who are in favor of such foreign investment, she said, "usually say it's a good idea because they feel as though they need the money to help fund the state. They say it's for jobs but, if we really want jobs, we seriously need to deregulate the system. I know a lot of businesses who would be able to do a lot more if regulations weren't so difficult."
When asked what kind of message she was looking to send to her constituents, she said, "What I really want to impress upon the people of The Dalles is, if I should become governor, my first objective would be to seriously look at the regulations we currently face. And I want them to know I mean business on this, that I take this issue very seriously. I'm not just gonna get in there and float along, because if things keep going the way they're going, we're not going to have a country."
"States," she continued, "have to get their houses in order because the federal government is floundering. Until the states become independent and strong, this won't happen, and in order for a state to be strong, we need to have unoppressed citizens that can go about their work without being burdened or hindered by the government."
"My campaign," she said, "is not so much about me as it is about regaining our liberties, about freedom and being certain of who we elect. Most of the time when we elect people to office, the ones in the main running are the current establishment's people, and are not for the common people. They are the ones that would sell their nation out for a dollar."
If elected, Rafferty said she will strive to represent the common people and uphold the constitution, which she called "the founding document that guarantees our freedoms."