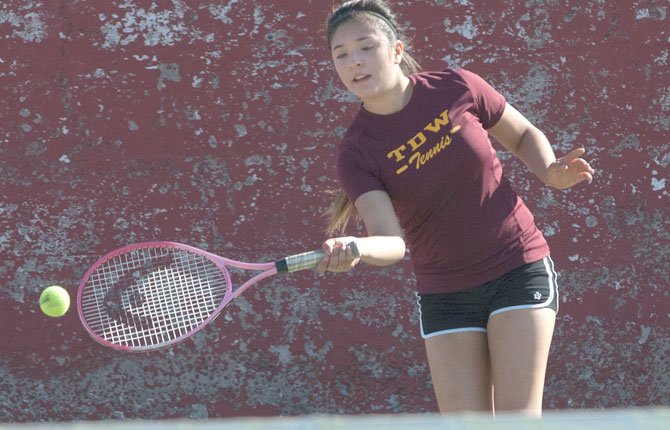 Much can be said about the current rise of The Dalles girls' tennis team.
Through the spring season, this group has won a few matches and had some highlight performances along the way.
Thursday, the Tribe got wins from the top-2 singles and the No. 1 doubles tandem in a close 5-3 loss to Cascade High School in a non-league tennis showdown in Turner.
Anna Miller continued her strong overall game and added another win to her log in a 6-1, 6-0 lopsided win over Sarah Walling.
Following up on that trend, Robin Pashek came through in her No. 2 match in what turned out to be a marathon match with Elizabeth Suelzle.
Pashek won the opening set by a 7-6 score, but Suelzle inched back into contention with a 7-5 output to send the match into a third-set tiebreaker.
Pashek did not wilt under the pressure, however, and motored past Suelzle in a 10-0 whitewash.
"Robin Pashek really had to gut it out and win two tie breaks to secure her win," said TD coach Debby Jones. "Robin's opponent was very consistent and the points had to be won. Robin moved her opponent around and set herself up for several point-ending passing shots."
With depth in the singles class, Cascade was able to even the singles count in the No. 3 and No. 4 divisions.
Sarah Teubaer defeated MJ Murillo 6-1, 6-0, and No. 4 player, Andrea Wood, cruised to scores of 6-1, 6-0 to grab her win.
On the doubles side, the No. 1 team of Johanna Wilson and Kiana Pielli had to dig deep into their reserves to notch a gutty come-from-behind triumph.
The Cascade team made early waves with a 6-2 win in the opening set, but Wilson and Pielli picked up the pieces with a 6-3 winner to send the match into a third-set tiebreaker round.
Wilson and Pielli had to fight until the finish, but broke free from an 8-8 deadlock with the last two set points to tally a 10-8 win.
"They dropped the first set and it was evident that they were pretty ticked off," Jones said of Wilson and Pielli. "They stormed back winning the second set and capped off the win with a dominate tie-break performance. [I am] very pleased with the mental performance of those two in this match."
Emma Ell-Smith and Abby Minnick lost their No. 2 doubles match by margins of 6-1 and 6-0, and the No. 2 tandem of Brittany Watkins and Rebekah Kohltfarber battled strong, but could not get the bounces to go their way in a close loss.
Rounding out the doubles matches was Diana Fernandez and Ellie Trujillo, and they were defeated in straight sets.
In evaluating the effort of Watkins and Kohltfarber, Jones was very pleased with the heart and hustle they showed in a tough battle.
This could prove to be the type of match that could get them back into the mix of contenders down the road.
"We came so close to picking up the match equalizer at No. 3 doubles," Jones said of the Watkins and Kohltfarber match. "Losing the second and third set tiebreakers was tough, but all-in-all, I felt like this was by far the best match that Britt and Rebekah have played. [I am] very happy with their performance."
TD travels to Hermiston for a league match at 4 p.m. Wednesday.