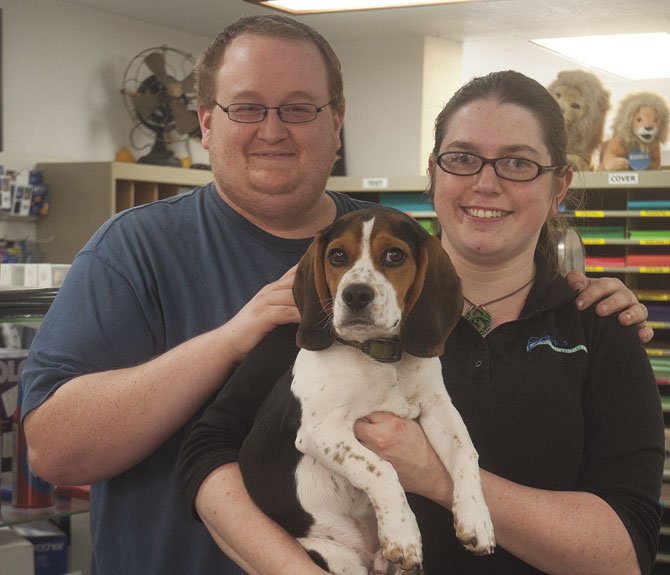 Animals have filled many roles in the working world for years: tending flocks, accompanying firemen to fires, serving their communities in the police and armed forces as trackers and sniffers, among others.
But there's also a tradition in some offices and stores of keeping pets for companionship and even a conversation starter.
By some definitions, they may offer some of the best customer service around.
Good customer service in today's business world take a deft hand and the ability to be at a customer's side in an instant with a cheery greeting and an eager demeanor when needed, or to recede into the background until the time is right when not.
Pets may be naturals for the position. And there are plenty of them around The Dalles.
"Sidney is a lover of people," said Al Wynn at KODL. Wynn's Friend Paul Duus led him to the Labrador pup in Rufus when he was just 2 and "practically wild," Wynn said. He started out at home on a chain outdoors, but soon charmed his way indoors. Wynn's wife, Marcia, was still mourning the loss of their longtime companion, a chocolate lab named "Chloe" so Wynn started taking him to work.
Today he is a fixture at the downtown office, greeting whoever visits, often soaking up the sun in front of the open door during warmer months.
"But he will not cross the threshold," Wynn said.
He's a kid magnet and parents often bring their young ones in for a little Sidney affection. And there's always a tennis ball at hand for anyone who's willing.
Their owners may not necessarily see them as such, but dogs in the stress-filled modern work environment are therapy, according to numerous reports, including one in the Huffington Post. In a survey of 31 companies, employees reported lower levels of stress with pets in the workplace. Perhaps surprising, cats slightly edged out dogs in the stress relief department, but both contributed to a less stressful work environment.
Other research has shown a positive effect on cardiovascular health, autonomic stress responses and blood pressure.
Pets also force employees to take short breaks on occasion during the workday, a practice shown to increase productivity.
And, as the pets at offices around The Dalles bear out, they make for a friendlier environment and may even lead workers to be more amicable with colleagues and customers. They are certainly a good conversation-startet.
The folks at the Port of The Dalles say their mascot, a part husky named Murphy is a spoiled baby, but he's also very friendly.
"He's the port greeter," said Kathy Norton.
If he's familiar with the visitor, he'll often welcome him with a "ru ru ru ru," the "chat" that is common in huskies. He's less vocal with strangers, but still welcoming.
Like all of the dogs visited for this story, Murphy doesn't seem to be much of a barker in the office, an important criteria for an office dog.
When his human, Michael Held, leaves the office, "Murphy actively looks for Michael," Norton said. He runs to the windows around the building in search of him.
"And if Michael is really busy and not paying attention to him, I'll be in my office and his head will come up under my arm," Norton said.
Down Klindt Drive a short distance, Hage Electric & Construction Services is definitely a dog-centric office. It's no surprise, Jana Hage, the family matriarch was the founder and former director of Home at Last.
Ellie and Baxter are quick to welcome visitors to the office. They are daughter Nicole Ryan's pets. Ellie is the puppy and is quick to invite a pat with a rub against a visitor's legs. The smaller and elder of the two is Baxter, who is ready with a pull toy, but doesn't want to share with Ellie. Joining them a few moments later is Garry Hage's dog, Reggie, who travels with him much of the time. On jobs though, he stays in the truck because clients usually don't appreciate a dog roaming around their site.
Sometimes the number swells to as many as seven dogs and when Nicole and Garry are out of the office, front office worker Annette Lais serves as pet nanny.
At Westwind Frame and Gallery, boxers Bindi and Oreo Cookie are the chief greeters.
"Bindi has us spoilt rotten as an example of a good business pet," said business owner Marty Hiser.
Obedient, sweet, calm, with a good temperament are words Hiser uses to describe her. Oreo Cookie, "Cookie" for short, is just 9 months old and still learning the ropes.
The pair are not only good companionship for Hiser, they are also an excuse for people to come into the shop.
Hiser says she is a faithful "poop bagger" and that's just part of the etiquette of having a dog downtown.
Bruiser, 5½ months, is the new face at Bohn's Printing, a quiet, sweet-faced beagle that has his own office chair, often a stopping spot for workers at the business.
Ellen and Pat Kilkenny bring Bruiser to the office daily.
"We've trained him mainly by having him stay in his office chair," said Pat. That's his zone. It gets him off of the floor and out of the way."
"He's gotten a lot better since we first got him," Ellen said. "Then he was a hyper ball of energy."
Feathers are the order of the day at Red's Trading post, where Congo African gray parrot named Bernie, 19, has ruled the roost for about 10 years, according to owner Red Stovall. He was an orphan that Stovall adopted.
He said a cat used to stalk the bird in his cage, but one day Stovall found blood in the area. The bird had gotten the upper hand when the cat stuck his paw inside. He had another close call, too, a broken leg caused by a dog, but he's a fixture at Red's — even part of their advertising campaign.
"He's really entertaining," Stovall said. "He mocks you." When Stovall has to go outside into the business' large yard area, he'll hear the phone ring, but it's only Bernie playing a joke. Sometimes Stoval can tell the difference, sometimes not.
"He's got a lot of personality," Stovall said. "And he just loves the customers. Regular customers come back just to visit him."
Under the category "best business-related pet name," Axle, Amy Robertson's 2½-year-old great dane wins the prize. He's also the largest dog in the category, coming up to Robertson's chest, not even needing to take his front feet off the floor to give his owner a smooch.
"He sleeps all day," Robertson said. "He's low maintenance." Occasionally, she will take Axle out for a walk. Around 4 p.m., he starts to get a little antsy because he knows it's time to go home.
Robertson keeps Axle in her office at the Tire Factory most of the time, away from the general public. He has toys and treats in a special drawer.
"Not everybody appreciates a big, slobbery dog," she said.
It might be hard for a customer to tell, but Luci, a 2-year-old schnauzer-poodle mix, is often on the job at Tony's Town and Country. She stays in a crate behind the counter with her human, K-Lei Helyer, but gets to roam around the store when customers aren't present.
"She's very nice," Helyer said. "She loves everybody, but sometimes customers don't want a dog around."
Irwin keeps Jim Wilcox company at Columbia River Properties. A rescue dog that Wilcox and his wife Lynn adopted from Home at Last, the part-corgi accompanied Wilcox when he participated in parades as mayor. While Wilcox always wore a cutaway tux in those appearances, Irwin has his own wardrobe, including a kerchief monogrammed with his name, and an Oregon State University sweater.
Probably the most quiet and shy of the canine collection, Irwin still willingly accepts a pat and a scratch from visitors, but doesn't force himself on them.
He may not seem it at the office, but at home Irwin can be a bundle of energy.
"He loves chasing squirrels," Wilcox said.
Huckleberry is relatively new to the office routine, at 2 years old. Though he has been told to stay in his bed, he pokes his head out from behind the desk to see who is visiting, but not too close, because he knows that's not acceptable. The yellow lab accompanies Nan Wimmers to work at Columbia Gorge Real Estate.
"He's still kind of learning the office etiquette," Wimmers said. "Not everyone wants to pet you."
Huckleberry sleeps behind Wimmer's desk and has a collection of toys to keep his attention.
"You want a dog that's quiet and calm and not too pushy," Wimmers said.
In Arlington, you'll find Ace, the Jack Russell terrier at the Arlington Hardware Store.
"He's friendly, energetic and he loves kids," said owner Marta Mikkalo. "He plays soccer — one ball in his mouth and he wants customers to throw the other ball and chases it down and using the other ball, the one in his mouth and his front feet, he brings the ball back to be thrown again. He literally uses his front feet like a soccer player. Very cool."
Kali and Zeus "paws of thunder" are the sole felines on the list. They are the official greeters at Avalon Biossage, but stay outside during work hours because of health rules. Both are often on the porch at Debra Lutje's home office.
Kali is the most friendly to visitors, often coming up for a pet or an ear scratch when clients are entering or leaving. She's also been known to want to explore visitors cars on occasion.
This is by no means the complete list of office pets in the area. Email to kursprung@thedalleschronicle.com your work pet's photo with names of pet, owner and business, and we'll run them at a later date in The Chronicle.