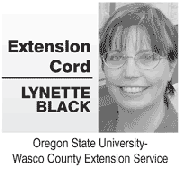 Many of us fondly recall our years and experiences as 4-H members.
We remember attending 4-H club meetings to learn about our project and be with others who had similar interests. We remember working together to complete community service projects and promote ourselves, our club and the 4-H program.
Thoughts of the County Fair bring back memories of long, yet fulfilling days of feeding, caring for and showing our animals, competing in contests and admiring our blue and purple ribbons. We remember hanging with our friends in the barn and 4-H exhibit building and enjoying fair food and entertainment. Yes, as we remember our youth, we remember our 4-H experience.
Did you know that experience was helping in so many ways; not just learning how to properly raise an animal or sew a garment?
The 4-H Study of Positive Youth Development is a longitudinal study that began in 2002 and was repeated annually for eight years, surveying more than 7,000 kids from 42 U.S. states. The participants included youth involved in out-of-school-time programs that were not 4-H (such as Scouts and Boys and Girls Clubs) and 4-H club members. Some of our Wasco County 4-H members were participants in this study. The research began with fifth graders in 2002 and ended with 12th graders in 2010.
First, what is positive youth development? A lot of attention and research has been focused on the problems of adolescents and is fueled by a negative view of the risk-taking and impulsive behaviors characteristic of the adolescent development period.
This negative view is that adolescents are broken and need to be fixed. The positive youth development view counterbalances this view by seeing our youth as developing individuals who have considerable strengths and with guidance can become positive and constructive contributors to our society.
We acknowledge that our adolescents face developmental challenges (after all they are experiencing cognitive, physical and brain transformations all at the same time) however it is our goal to promote positive outcomes.
This ground breaking research has helped us understand the strengths of the 4-H program versus other out-of-school time programs and will help us further develop strategies to support our children and adolescents.
For instance, this study indicates that 4-H members are substantially more likely to contribute to their communities and be active and engaged citizens, have higher academic competence, be involved in school activities, and have healthier habits than youth in other out-of-school-time programs.
Interestingly, however, being involved in 4-H made no significant difference in reported risk and problem behaviors, though 4-H girls were less likely than 4-H boys to engage in these behaviors.
This finding indicates a need for a blending of the best of the two youth development views; youth are an asset with strengths and who face real challenges, both of which need to be addressed. This finding will strengthen our (Wasco County 4-H) program's outreach efforts and leadership trainings, some of which occur in our local schools.

A lesson learned through this study is that youth programs cannot remain static; "they must expand and change in order to address the diverse and changing characteristics, needs, and interests of adolescents and their families."
Wasco County 4-H embraces this comment wholeheartedly. Our focus on the sciences (science, engineering and technology) is due to the needs of our community and our country and is bolstered by the 4-H Study of Positive Youth Development which found that 4-H participants were generally more likely than youth in other out-of-school-time programs to participate in science, engineering and technology programs with 4-H boys reporting they were more likely to have plans for a career in engineering and computer technology than others.
In order to expand our 4-H program and stay relevant to our youth we need additional volunteers. We know you are out there and we know you have talents and skills that can be shared with our community's youth. We also acknowledge your busy schedule, but we can work with that.
One of the reasons 4-H rises to the top of out-of-school-times programs for positive youth development is because of that caring adult relationship with youth. All youth need to have at least one caring adult outside their immediate family to provide positive mentoring and guidance.
We are in need of leaders for the shooting sports (archery, rifle, pistol and black powder) program, outdoor education and recreation (backpacking, camping), small engines, all types of Robotics and science, engineering and technology areas, fishing, fine arts, cooking, sewing, gardening and more. Won't you give a bit of your time and talents to the youth of our community?

Contact Lynette Black, OSU Extension Service, Wasco County, 4-H Youth Development Faculty at 541-296-5494 or lynette.black
@oregonstate.edu to discuss your involvement in the Wasco County 4-H program.