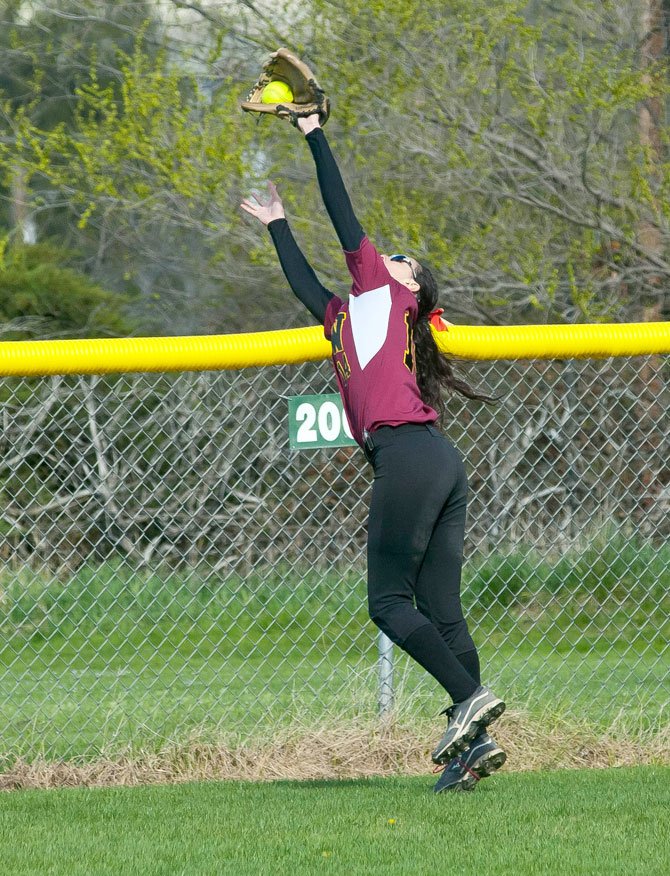 Four errors led to six unearned runs, as 6A Reynolds pulled away late with five runs in the sixth inning and four more in the seventh to preserve a 13-4 victory Friday in non-league softball action at 16th Street Ballpark in The Dalles.
"Errors and mental errors hurt us," said TD freshman Jez Farrell. "If we eliminate those, we are in this game. It is up here. If we can learn how to control that, we will be a great team. The bats did well tonight. It is just that we have to get everything going at the same time. It will happen."
Added to the miscues hurting the Tribe's chances at keeping the scores low, they stranded 10 runners on base, including nine in scoring position.
In the bottom of the sixth inning, the Eagle Indians were down 9-1, but got an RBI single off the bat of Grace Helyer to drive in Sierra Watson and make it a 9-2 score.
Helyer advanced to second base, and Timarra Roth, who singled earlier in the inning, moved to third base with two outs in the frame. But, Raider ace Cheyenne Vance induced an inning-ending flyout to left field to keep the lead at 7.
With Vance dancing out of danger, Reynolds plated four runs in the top of the seventh, using a two-out rally.
Jayden Blaylock hit a two-run home run, Vance had an RBI single and she later scored on an error to run the count out to 13-2.
TD rallied for two runs in the home of the seventh, as Ruthie Ford, Morgan Goslin and Morgan Triperinas all hit consecutive singles to load the bases with no outs.
Ford wound up being forced at home on a grounder to short, but the bases were still packed for Farrell.
The freshman lefty rifled a two-run single to left field to chase home Goslin and Triperinas to make it a 13-4 contest.
With two runners in scoring position and one out, the Eagle Indians could not get any other favorable bounces to go their way, as a strikeout and a comebacker ended the threat.
Farrell went 2 for 4 with a double and two RBIs to pace TD's eight-hit attack.
Goslin went 1 for 4 with a double, a run scored and an RBI, Harris had a hit and a run scored, and Maddy Bradford chipped in with a hit in four at-bats.
TD (6-5 overall) looks to snap its three-game losing streak with a home matchup at 4 p.m. Monday versus No. 22-ranked Mountain View (4-3).
Cimmiyotti is confident that this team can form a strong bond while faced with this latest bout of adversity.
"It is important for us to keep playing hard like we do in every game," she said. "We just need to come together as a team in every aspect of the game, cutback on those errors and keep hitting like we have been hitting. We need to come back together at our next practice like nothing happened and focus on the next games ahead."