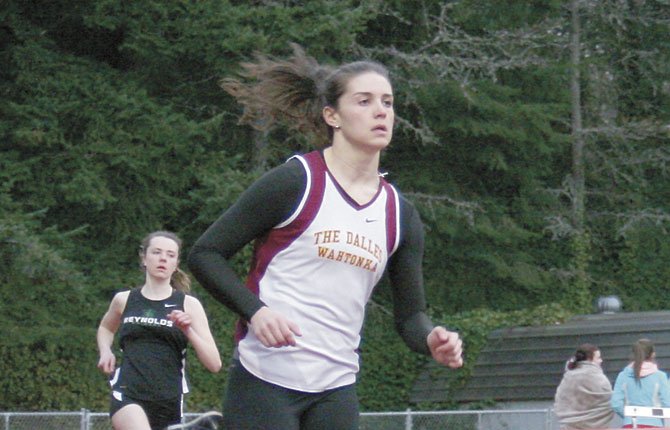 While facing some elite talent from across the state at the East County Classic in Gresham, The Dalles track and field team amassed 13 top-5 finishes, including wins by Emily Bailey, Joey Duong and Lio Tunai.
The Tribe boys tallied 46 points for eighth place in the standings, and there were several veterans who came through in their respective events.
Tunai, a former state qualifier, continued his run of first place medals with top recognition in the shotput with a distance of 49-feet-6.25 inches.
Duong captured his flag in discus where he had a top toss of 132-11 to dominate his field.
Zach Nerdin placed second in the high jump with a height of 5-11, and the senior added a fourth place output in the 300-meter hurdles in 43.58. Nerdin added a fifth place marker in the 110 hurdles in 16.40. Sant Strassheim placed fifth in the 300 hurdles with a time of 43.91, and senior Mark Johnson picked up a fourth-place outcome in the pole vault with a final height of 12-feet.
Elijah Kohltfarber had a time of 4:35.68 in the 1,500-meters, and he placed 11th in the 800 in 2:11.72.
Rounding out the top participants was Harris Farr, who placed 13th in the long jump by hitting the dirt in 18-7.5, and senior teammate Blake Diede had a time of 24.44 for 12th in the 200-meters.
Reynolds took first place in the boy's division with 96 points and Bend notched 93 points for second place.
Hood River Valley inched ahead late to rally for first place on the girl's side with 110.5 points, just ahead of Clackamas, who had 99.5 on the scoreboard. The Dalles, with its six top-5 placings netted 29 points.
Bailey took control in her attempt at 800 meters and blasted a large group with a time of 2:24.55 for first place.
Katie Conklin took care of business in the triple jump with a leap of 34-02.75, and she added a 16.91 for fourth in the 100-meter hurdles.
Katie Burns chalked up third place in the 2k steeplechase with a time of 9:11.44, and Caela Dunagan was right behind in fourth place registering a 9:11.72 for her efforts.
Yasmin Hill grabbed fifth place in the long jump with her 15-8, Hannah Schechtel turned in a sixth in discus with a toss of 92-6, and Liz Tunai reeled off eighth place in discus at 83-8.
Kellina Coy powered home with a height of 8-0 in the pole vault for 10th place, Emily Morin was ninth in the 3,000-meters at 12:09.38 and Burns placed ninth in the 300-meter hurdles with a marker of 52.48.
TD hosts Pendleton at 3:30 p.m. Tuesday for a 5A Columbia River Conference track and field dual.