The Dalles resident Rodger Nichols is part of a committee that is challenging counties of the Mid-Columbia and beyond to provide disabled veterans with greater mobility.
"It's really sad that we have to raise this money ourselves; it's something this country should be providing for the people we send to war," he said.
Nichols, news director for Haystack Broadcasting, serves on the Track Chair for a Hero Committee, a coalition of area organizations and businesses. Several months ago, the group based in Goldendale set a goal to raise $12,000-15,000 to benefit a veteran who was severely injured during his or her combat duty.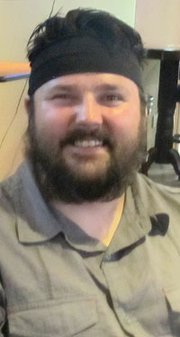 The name of the beneficiary, former Army Specialist Jereme Sawyer, 37, of Rochester, Wash., who is a double amputee, came weeks into the planning process.
"Len Crawford, a city councilor for Goldendale, and Tom Beck, from the American Legion, started this movement and we hope that it is something that gets picked up by other communities in the region and throughout the states of Oregon and Washington," said Nichols.
On Saturday, the first fundraiser to benefit Sawyer takes place at American Legion Post 116 in Goldendale, 108 Grant Avenue. The buffet dinner of "good old-fashioned comfort food" will be accompanied by an auction and raffle drawings of goods and services donated by area businesses.
If all of the money necessary to purchase the chair is not raised that night, Nichols said other events will take place in the near future. He has been getting the word out about the cause through Haystack and Lou Marzeles, editor of The Goldendale Sentinel, is also working toward that end.
The track chair serves more like an ATV for an individual, in that it rolls through woods and sand, which allows the rider to hunt, fish and otherwise enjoy outdoor recreation.
"It will let him get out and do things he wouldn't ordinarily be able to do," said Nichols. "This has been an amazingly satisfying and gratifying project."
He said federal health insurance privacy protection laws made it difficult to get the name of a recipient through the U.S. Department of Veterans Affairs. So committee members mounted their own search and were led to Sawyer, who lost both his legs at the knees following a roadside bomb explosion during a deployment to Afghanistan.
On April 3, 2012, Sawyer was moving barricades, called T-walls, near forward combat outpost HR-2 in Helmand Province. He was assigned to the 5-20 Infantry Regiment, 3rd Stryker Brigade Combat Team, out of Joint Base Lewis-McChord in Washington State.
When the IED (Improvised Explosive Device) exploded just three feet from where Sawyer was standing, his legs were shattered, as was his pelvis in 10 places, and his eardrums were shredded.
He endured a long, painful recovery involving multiple operations at the Center for the Intrepid at Brooks Army Medical Center in San Antonio, Texas. Eventually, he was able to return to Washington and be reunited with his two sons, Avery, 14, and Aedyn, 9.
Nichols said the high-utility vehicle is a "small down payment on the debt this country owes to a wounded warrior."
"Jereme was absolutely humble when we told him about this," he said. "The first thing he said was that we should 'find someone who needs it more.' He then told us that he was not a hero for doing what everyone else did and we told him that service made him a hero to us."
He said a Facebook posting by Sawyer on Veterans Day 2012 underscored his humility and why he was a worthy candidate for the chair.
"I often question why I'm not buried with those of you who didn't make it and every night is a struggle to clear my head so I can sleep," he wrote. "I say thank you from these tears that roll off my face to the sadness that dwells deep within; you and God above made it possible for me to enjoy another breath of life. Amen to our United States military everywhere and its coalition forces also…thank you."
Donations for the track chair fund may be sent to: Sterling Bank, 201 W. Main Street, Goldendale, WA 98620. For more information contact Nichols at rodger@haystackbroadcasting.com or call 541-296-9102.