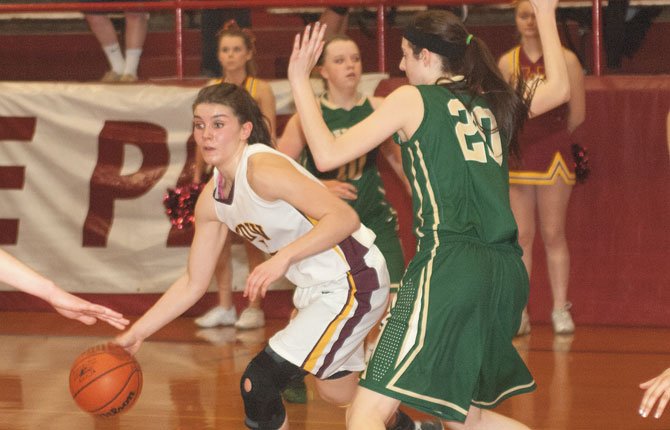 Through the course of time, there are a select handful of athletes who capture the imagination of a community.
While scanning the inside of Kurtz Gymnasium, the No. 1s represent an elite level of athlete who has donned the crimson and gold, bringing an element of excellence in athletics, leadership and sportsmanship to the forefront.
Emily Bailey has earned her fair share of accolades through her high school career, but as she embarks on a new challenge of graduation and a college basketball career, The Dalles senior is well aware of what it means to receive adulation from opposing coaches, players and administrators.
Bailey was one of 21 athletes voted on as part of the 5A all-state team, taking first-team honors for her play in the 2013-2014 season.
"It was great. I was pleasantly shocked when I heard that I was all-state. It is an honor to know that coaches respect me," Bailey said. "Being from The Dalles, athletes don't get a lot of recognition. I thought that it was great for the program and I was excited because it is such a great accomplishment to end the year."
Blessed with an all-around game of shooting passing, rebounding and stifling defense, the two-time Columbia River Conference Player of the Year dazzled on several fronts in leading her team.
Every year with Bailey on the roster, The Dalles girl's basketball team improved on its win totals going from 11 in her freshman campaign to 18 this past season.
As a senior on a squad with four freshmen, four juniors and two sophomores, Bailey had to switch positions to point guard and still led the team in rebounds and blocks.
On the year, she averaged 14.1 points, 8.7 rebounds, five steals, 4.9 assists and 2.8 blocks per game, as her numbers spiked in points, rebounds, assists and steals.
Tribe head coach Dan Telles leaned heavily on Bailey during the season with hopes to get all of the players on the same page.
"Not only is she a great player, but the mark of a truly great player is how much better she makes her teammates around her," Telles said. "Bailey was surrounded by a young crop, but she always made her teammates better. She would distribute the ball in a position to make them successful. She would help out her teammates in practice and in games, doing whatever she could, like a coach on the court."
In addition to her first-team all-league and two Player of the Year selections, earlier this year, Bailey was nominated as a McDonald's All American.
She will graduate in June and play hoops next winter for the Colorado School of Mines, where she earned a scholarship.
Lofty accomplishments for an athlete who endured microfracture knee surgery in 2012.
Even when faced with that level of adversity, Bailey never lost faith in God.
"I believe everything happens for a reason," Bailey said. "God gave me that, so I would learn from it and it made me stronger. I think that a huge part of my career was overcoming that injury. I have had great support from my family, my teammates and my coaches especially. They never stopped believing in me. Through the knee surgery, everyone showed so much support and trust in me. Their confidence helped a lot."
One hoops teammate who has taken a pronounced leadership role on the softball team, soaking up all the knowledge from Bailey is Morgan Goslin.
The junior called Bailey one of the best athletes to come through The Dalles in the past 20-30 years.
"She is not just a great basketball player, she is a great leader and she never backs down from anybody," Goslin said. "I am happy and honored to have been able to play with her because she is such a great athlete and great person."
All the awards aside, Bailey stands firmly behind strong family values that have helped mold and shape her over the years.
She is mindful that performance on the court is just a small element to the true character of a person.
In the end, she hopes her legacy is built on the foundation of being a good example for other athletes coming up the ranks.
"I knew that when I grew up, I wanted to be that person that people looked up to. I wanted them to see that I could make the right choices," Bailey said. "Most of what a person is known for is character. If they can be a good example and show the younger people how to go about life the right way, then I think that means so much more than any award."