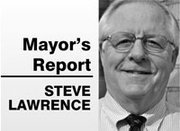 Things are happening fast. I rode up the Columbia on the inaugural trip of the sternwheeler, American Empress, last week. It is a gorgeous ship, capable of carrying 250 passengers and it is scheduled to arrive once a week. What I learned is that we need to do a better job of coordinating and welcoming cruise ships to The Dalles.
This was the first of over 100 cruise ship dockings scheduled for 2014 and it is a wonderful opportunity for our business community. I am working on getting one coordinator that will answer all questions, make arrangements and ensure that each passenger who gets off to visit The Dalles has the best experience possible.
In addition, bike enthusiasts are looking at The Dalles in new and different ways. A writer from Cycle Portland just spent a week here, riding out roads, visiting historical sites and writing online stories for the cycling world.
Main Street is working to encourage downtown owners to upgrade, rehab and bring new life to old but historical buildings through low-cost loans, grants and tax relief.
Jammin July will be bigger than ever and Cherry Festival will be even more full of life. A New Fourth of July celebration promises to bring music, concessions and fireworks. On top of all that, of course, Cycle Oregon is coming in September and Parks and Rec is about to start building our new aquatic center.
The challenge for all elected officials and public employees will be to discover how to help and nurture growth without getting in the way. The challenge for volunteers, business owners and social organizations will be to receive these changes with open arms, imagination and energy.
It appears the "tipping point" for The Dalles is closer than we thought. The city council and mayor are charged with the mission of providing impeccable decisions. That means, at times, choosing between two correct and important options. We can only try to be without fault if we have as much citizen input as possible. As the town grows into its 21st century self, everyone will be needed!
There are still vacant positions on City commissions and committees. Cycle Oregon will require a huge number of volunteers.
If you haven't considered getting involved, we need you now. In the next two months, the city will decide its 2014-15 budget, address how to fix more roads and consider how to deal with a new marijuana dispensary law.
Please contact myself or Julie Krueger, City Clerk. My number is 503-807-0724. My email is SeLawrence1963@yahoo.com.

Steve Lawrence is mayor of The Dalles.