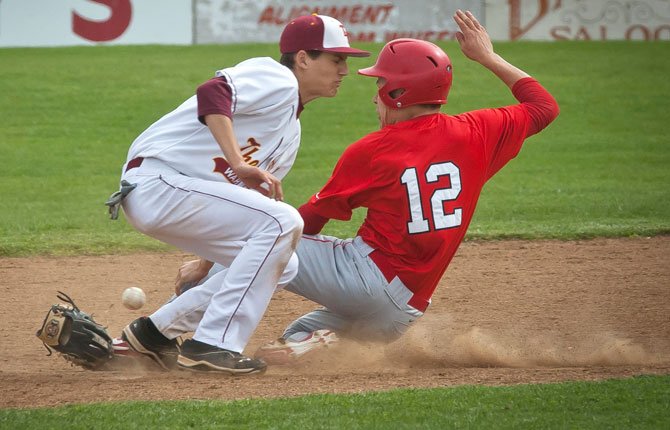 Entering Saturday's doubleheader, Nolan McCall was riding a hot streak of 14 hits in his last 28 at-bats.
When the final run crossed the plate in the second game against David Douglas, the all-state third baseman finished with a 7 for 8 stretch with five doubles, a triple and six RBIs to lead the No. 4 Eagle Indians to their fifth and sixth consecutive wins in non-league baseball action at Quinton Street Ballpark.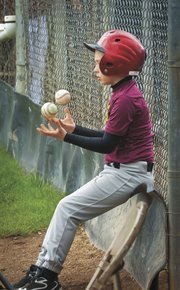 With the score knotted at 5-apiece in the bottom of the seventh inning of the nightcap and Colin Noonan at second base, McCall dug in against David Douglas reliever Cameron Couch.
On the first pitch, McCall rifled a deep shot to centerfield off the fence to plate Noonan for the game-winning run and a 6-5 victory.
"I was just looking to move the guy over to be honest," McCall said. "I got that first pitch and I was able to put a good swing on it, not trying to hit a home run or anything. Luckily, I came through. It was a good win. We were behind early, but we never gave up. We all came together and got this win."
David Douglas jumped out ahead 5-0 after two and half innings, but the Eagle Indians steadily chipped away as the game progressed.
In the fifth inning, the Tribe down 5-3 with one out, McCall was at the plate with Noonan at third base and Steven Bartells at second.
Facing a 2-2 count, McCall hammered a pitch from David Douglas starter Miguel Oberman for a two-run double to tie the score at 5-apiece.
Tribe reliever Colton Walker kept the Scots off the board in the sixth, and Zach Cantrell blanked them in the seventh to keep the team in contention.
Tribe relievers Bartells, Walker and Cantrell tossed 4 1/3 innings of two-hit ball with two strikeouts.
"It was awesome to be able to come back," McCall said. "We were down early, but we just flushed what we were doing and got re-focused and did our job to get this win."
Clay Copper, Bartells and Austin Wilson added a hit and an RBI each for TD, and Noonan scored twice.
McCall went 3 for 4 with two doubles, a triple and three RBIs.

In the opening game, an 8-3 win over Glencoe, McCall went 4 for 4 with three doubles, two runs and three RBIs, as the Eagle Indians scored three runs in the third, added two more in the fourth and capped the day with a three-spot in the sixth inning.
More than McCall's hitting exploits was the pitching performance put forth by senior Clayton Ringer.
The southpaw allowed one run on four hits and struck out five in 6 1/3 innings to earn the win.
Ringer lowered his earned run average from 3.65 to 2.50 after his six-plus inning gem.
"I felt really good today," said Ringer. "My curveball was working really good and I was able to locate the ball. I was able to get a lot of outs because of my defense. They played great behind me."
Noonan went 2 for 4 with a double, two runs scored and an RBI, and Gordy Harris added a hit, two runs and a stolen base.
Bartells and Wilson scored a run apiece, and Zachary Keimig added a 2 for 3 effort from the plate.
After Saturday's two-game sweep, the Eagle Indians boosted their record to 8-2 overall and are currently ranked fourth in the 5A classification.
In evaluating the 6-5 nightcap winner, where they fell behind 5-0 and had three runners cut down on the base paths, Tribe skipper J.R. Runyon is happy to get the wins, but knows there are some lessons to take away.
The work is never completed.
"The second you get complacent, your season is over," Runyon said. "You've always got to work to get better each day. That is one of the things that we stress at practice every single day. We are nowhere near where we could be. We have some things to work on. Guys are making some improvements, but there are still a lot of improvements to be made. When that starts happening, it is going to get fun."
TD travels to 6A Gresham (3-5) for a game at 4:30 p.m. Wednesday.