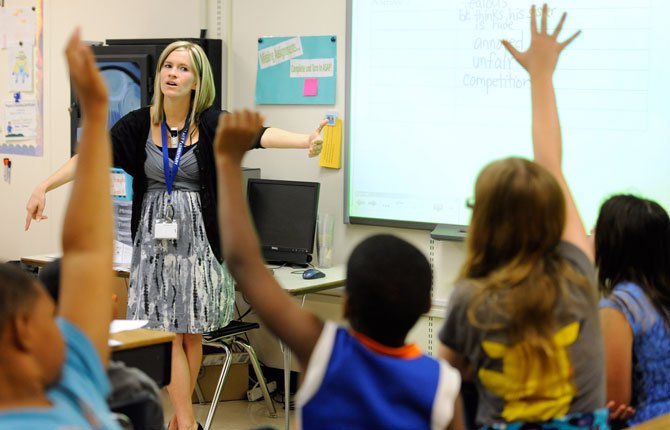 LEWISTON, Idaho (AP) — It's test time for Idaho students — and for the test itself. Starting in March, Idaho public schools have begun field testing the Smarter Balanced Assessment Consortium tests aligned with new Common Core State Standards.
Students in grades three through 11 are taking the assessments in Moscow, where the testing window is April 1 to May 16. Students at Lewiston schools, where third- through eighth-graders and 11th-graders will be tested, start today and continue through May 29.
"Things are going well," Moscow School District Superintendent Greg Bailey said. "We're finding that the test is taking a little bit longer than expected — that's part of the field test's purpose."
Bailey said that while the state's former assessment, the ISAT, took an average of six total hours to complete, this year's tests might average about nine hours.Schools in 45 states, including Idaho and Washington, have been implementing Common Core standards used in the tests over the past two or three years.
Students and teachers won't see the scores from the English and math-based tests being administered this spring, but all students at Idaho and Washington public schools will receive official results in 2015.
"At this time, we won't receive any student data back, because the intention is to test the test," Lewiston School District Curriculum Director Lisa Fenter said.
"Just the kids having the experience of what this new testing will look like will go a long way regardless of the individual feedback of how they did," Lewiston School District Superintendent Bob Donaldson said.
As with the ISAT, the Smarter Balanced testing is done entirely on computers.
"With limited computer lab space, it just takes a lot of time to get students in and out," Moscow School District Curriculum Director Sarah Hanchey said. "The test is actually untimed, so students can take as much time as they want or they need."
Hanchey said the Moscow School District decided to err on the side of caution for the field test, building extra time into the computer lab schedule.
"Doing it for the first time, we don't know how long it will take to finish," she said.
Though the tests require more time overall than their predecessors, Bailey said they offer more flexibility.
"We can split this test up a little bit more," he said. "That's one of the things we're looking at: What's the best way to split this up so we don't stress out the kids?"
Bailey is a member of Idaho's Smarter Balanced advisory committee, made up of administrators, superintendents, test coordinators and teachers.
"What we're going to be doing is trying to get the feedback of what worked, what didn't, so we can bring that back to the testing co-op and see if we need to tweak anything," Bailey said.
"That's probably one of the most important things is seeing about glitches and fixing (them)."
The only problem Bailey reported at Moscow schools last week was some trouble with the audio portion of the tests, which he said the district was able to correct.
Neither Fenter nor Bailey have heard from parents in their school districts concerned about the Common Core standards or the Smarter Balanced tests.
"I feel good about where we are in Lewiston as far as how we're teaching and how our students are prepared for this," Fenter said.
"I haven't received anything from specific parents," Bailey said. "I know it's out there, throughout the whole nation, they're concerned about the time this test takes."
As for the tests themselves, Bailey said student feedback so far has been mostly positive.
"The kids are stating that they like the test better. It's not as monotonous as in the past," Bailey said. "It was promising to hear that kids liked it. I believe it's more of a challenging test for the kids, but if it perks their interest that's good."
In addition to the Smarter Balanced English language arts and math field tests, Idaho students in fifth, seventh and 10th grades will take the ISAT science assessment this year, for which they will be scored.
While all Idaho schools are participating in the Smarter Balanced field test this year, only some Washington schools have opted in. In the Clarkston School District, students at Heights Elementary School will take the tests later this month.
---